PART 3: SOME LIKE IT HOT



One of the key regions for which I was budgeting my time to spend on the Rajasthan, featuring some of the most exotic and dazzling places in India and in the world. The muslim Moghul empire swept across northern India and when it retreated, it left its artistic mark in no place as indelibly as in Rajasthan. The intricate detail and explosive colours are what magnetically attract visitors here. When many people conjure up images of India, there's a good chance they are images of Rajasthan that are being envisioned. Rajasthan was active with both tourists and touts when I arrived, though it was past the peak season. Another reason I was hoping to arrive in this lowland state as quickly as possible was to see it before the stultifying heat could set ablaze sleeping cows. Alas, this plan failed as a late winter heat wave was scorching the area, consistently pushing the mercury over 40°C every afternoon. But as it turned out, the intense heat was an intense bone-dry heat, which I don't really mind so much. Even at its 44°C zenith (about 110°F), I felt comfortable walking around outside, staying in the shade whenever possible and drinking buckets of water and soda. I had feared the worst as far as hassles, extrapolating from what was conveyed by other travellers, but I didn't really find Rajasthan much more difficult than most other parts of India. Lone women travellers seemed to have more problems in Rajasthan, especially on the sexual harrassment angle. And it probably helped that I chose to skip Jaipur, the largest Rajput city and one vertex of the infamous scam triangle along with Delhi and Agra.

There was of course plenty to see. My first stop was Udaipur, home to the lakeside City Palace where the 007 film Octopussy was filmed. Nice palace, nice enough town with a lake and surrounding hills, but I didn't really find its reputation as the most romantic city in India much deserved. The next two sites, which I suffered mightily on excruciatingly slow local bus rides to visit, were Ranakpur and Mount Abu. I made a point to visit them because of how an Australian traveller I'd met in Ajanta talked about them. You know when they start blubbering about a place in a certain way, you gotta see it for yourself. And I don't regret the effort I expended. Both cities featured exquisite Jain temples with intricate carvings from marble that I have never seen anywhere else. Even the Taj Mahal can't touch these for detail. I don't know what prompted the Jains, now a minor religious community in India, to build these temples (perhaps the beauty of the art inside the temple reflected their belief in worldly austerity comcomitant with inner beauty) but I'm sure glad they did because I'm not sure if anyone will ever build this again. The Ranakpur temple is primarily one mother temple, whereas the Dilwara site near Mount Abu encloses a complex of temples, but they are all stylistically similar. Mount Abu had the added advantage of being a hill station reputed to be markedly cooler than anywhere else in Rajasthan and that was indeed the case. There's not a whole lot of exceptional interest to the tourist there but it's a pleasant place and since it's primarily a tourist destination for Indians looking to escape the heat, life is more laid back for the foreign tourist. Consequently many backpackers end up relaxing and hanging out in Mount Abu far longer than they expected.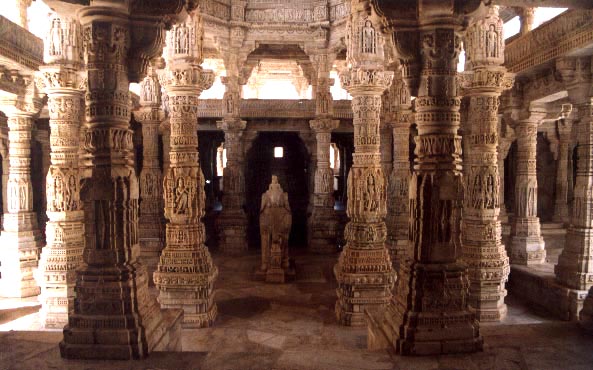 The interior of one wing of the Jain temple at Ranakpur. Yes, that's all marble that you see.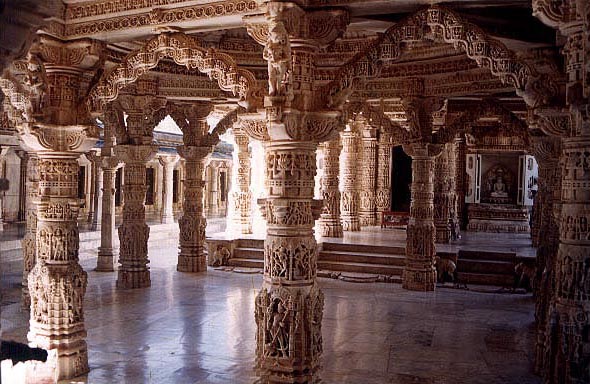 Photography is prohibited at the Dilwara temple, so I bought a print of this photo that had been taken fifteen years ago. Note the Jain idol sitting on the back wall.

From the refreshing heights of Mount Abu, it was back into the furnace. I had only a day to spend in Jodhpur, but that was enough to visit the imposing Meherangarh fortress dominating the city and to walk through one of the "blue" neighbourhoods in town. The tradition to paint houses blue originated to mark homes of the Brahmin caste, but eventually triggered a chain-reaction that even Picasso in his cubist blue period would have fondly approved of. Walking through these neighbourhoods was about as viscerally stimulating as any other I had in India.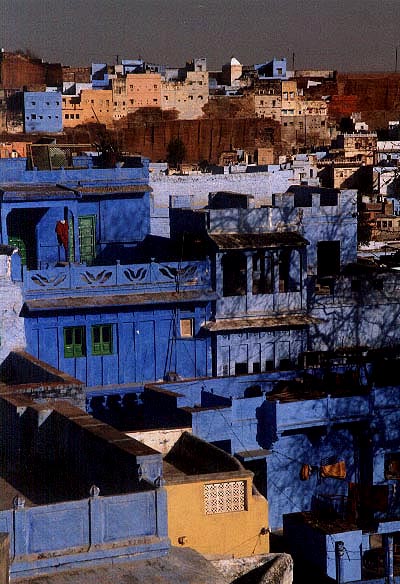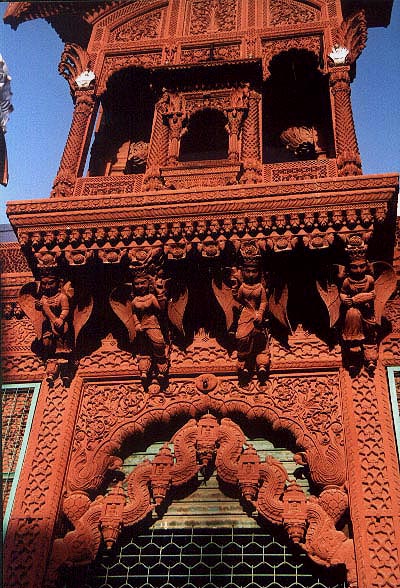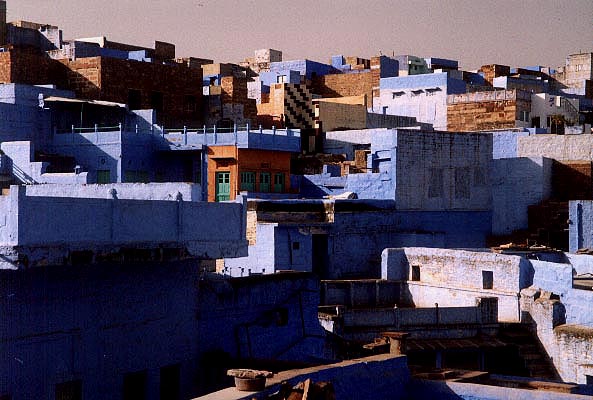 Images from Jodhpur, Rajasthan: the fatehpol old city and the clock tower from Sadar Market

A westbound train transported me next to Jaisalmer, about as far west as you can get in Rajasthan, with only the Great Thar desert separating it from Pakistan. I had heard wondrous tales of this storybook kingdom rising out of the baked sand, but I was not prepared for how stunningly complete the fairy-tale was. The walled fortress overlooking the city contains a mini-world interlaced with alleys so narrow that cows and buffaloes frequently block pedestrian traffic, with sandstone temples and palaces poking out over the skyline. Of course there are other tourists and the commerce of the walled city depends entirely on tourists, but the timeless medieval feel of Jaisalmer cannot be quenched so easily. The old city outside the walls is just as beautiful. Every other building seems to feature impossibly ornate Rajasthani style woodwork and sandstone carving that would be a museum piece anywhere else. The architecture is as extensive and coherently uniform in style as Paris orVenice or Miami Beach, and the desert dryness has preserved the materials superbly. Jaisalmer gets my vote as the most beautiful city in India.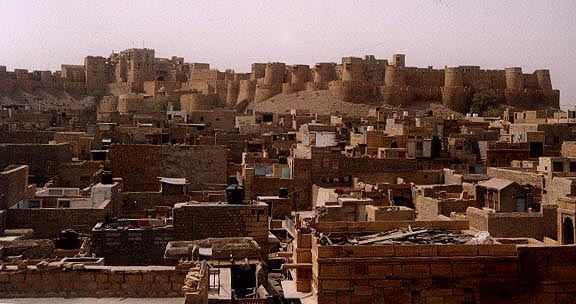 View of the walled city of Jaisalmer, Rajasthan, from the rooftop of the magnificent Patwon-ki-Haveli historic house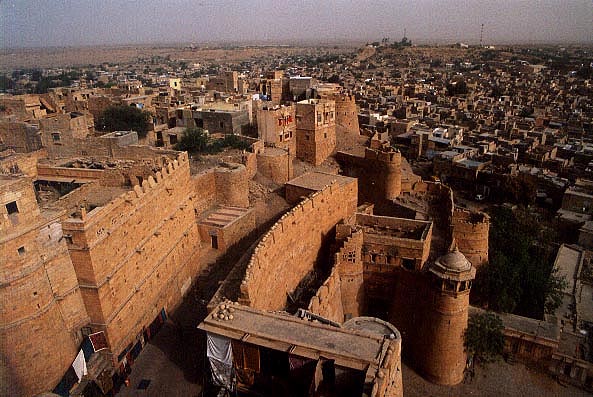 View from the roof of the seven-storey Maharajah's palace inside the walled fortress of Jaisalmer, Rajasthan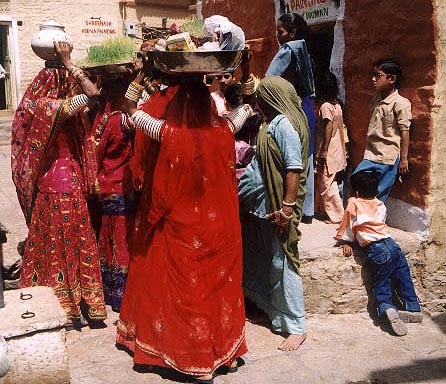 The rajput Isar Gangore festival took place while I was in Jaisalmer, Rajasthan. Unmarried women sing and bring offerings door to door in front of the houses of the suitable unmarried young men in town. Their singing voices weren't so great, but their colourful costumes were quite photogenic!

I spent more days in Jaisalmer than any other place in India and so I had time one of those days to take a sunset trip out to the Sam, an outpost 42 km into the desert. Daytrippers get inundated by extremely persistent hawkers and camel touts who won't get out of your face no matter what you say. I had no desire to jump on a camel, having done so in Giza, so eventually I resorted to playing games with these touts who chase you across and over the sand dunes. I'd start running away from them if one approached me and when they finally gave up and walked away, I'd playfully walk back after them. In the end, I learned that the best strategy for not getting bothered by the touts is to sit near a group of Indian visitors, who'd chase them away. And while the sunset was obscured by the haze and dust in the sky, I always enjoy spending a little time in the desert.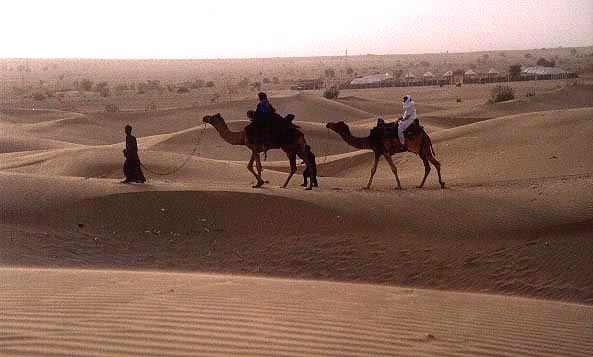 Camel riders at the Sam sand dunes, Rajasthan.

When it was time to move on, the prospect of a very long 18 hour train ride northward to Punjab awaited me, so I decided to cut the journey with a few hours in Delhi. I had not anticipated spending any time in Delhi at all, but a brief visit was educational in any case. On the tourist front, I managed to walk through the old town of Delhi, which reminded me very much of medieval Cairo, visit the Jama Masjid, largest mosque in India, and the Red Fort. None of which I found terribly remarkable. I'm sure I didn't spend enough time to draw any conclusions, but Delhi is not a terribly pleasant city. The typical dust and filth and smelliness and chaos and noise and tenacious touts you see in other cities are simply magnified n-fold here. Most of the backpackers I talked to who harboured positive feelings for Delhi turned out to be homesick westerners who in reality enjoy the convenient services and low prices in the Paharganj tourist ghetto, without venturing outside its cozy confines. The most fascinating neighbourhood for me was the upscale Connaught Place concentric circular complex on the modern New Delhi side of the rail tracks. Here, expensive boutiques and restaurants (including the only McDonald's I'd see in South Asia -- serving veggie burgers of course) display a staggering wealth relative to most of India. The upper crust clientele, even the kids, speak to shopkeepers and with each other in English rather than Hindi. There may have been more ATM machines here than all of the ones that I saw in the rest of India put together. It blew my mind that all this existed barely a kilometre or two from the impoverished squalor of old Delhi. Clearly India is a nation of haves and have-nots, brahmins and untouchables, and even when geographically juxtaposed with each other, never the twain shall meet.



BACK: PART 2 VERY FENI

NEXT: PART 4 FEELING SIKH AND BHANGED UP