PART 4: FEELING SIKH AND BHANGED UP



Punjab was split down the middle in 1948 between India and Pakistan, partly because the dominant religion in this northern state is neither Hindu nor Islam, but Sikhism. Symbolic posterchild of the Partition, Punjab's two cultural hubs are Amritsar in India and Lahore in Pakistan, linked by a border crossing that is often closed in times of tension but remains the only open border crossing between the two nations. Amritsar is most well known for being the site of the mother temple of Sikhs, the Golden Temple, but it is also the site of the Jallianwala Bagh massacre in 1919. In one of the ugliest colonial massacres in cold blood, unprovoked British and Gurkha troops fired upon and killed or wounded two thousand Punjabis in a closed courtyard with no escape. This incident convinced Gandhi that the British must go and steeled his resolve to resist the occupation.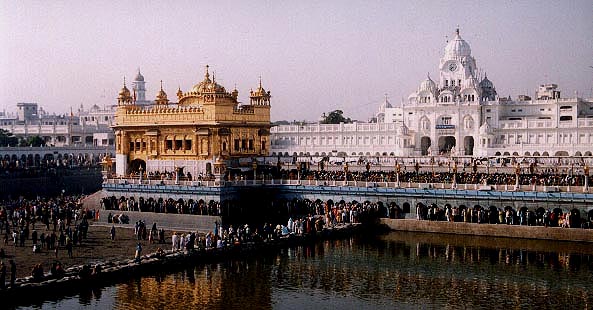 Most of the sacred ground surrounding the Golden Temple at Amritsar, Punjab, has been drained but one corner sector still retains water.

There may not be much to see in Amritsar aside from the Golden temple, but it's worth the trip just by itself. The brilliant gold leaf plated temple is accessible to worshippers and tourists like from a causeway that normally passes over a water-filled moat. However, when I arrived most of the moat was drained for cleaning, a labour intensive chore done manually that was last performed 20 years ago because of fears that Pakistani terrorists may have buried arms under the water. It's a monumental event for many Sikhs and thousands of pilgrims were there to join in the manual task. Indian Prime Minister B.J. Vajpayee was even scheduled to come observe the event, no doubt beneficial for his ongoing reelection campaign as well. I was fortunate to be able to visit the temple with an Australian Sikh traveller who could explain to me some of the rituals and symbolism associated with the religion (like: do they all wear turbans, and do the colours signify anything? no, and no. and why is this temple so special? because it is the embodiment of the most recent prophet).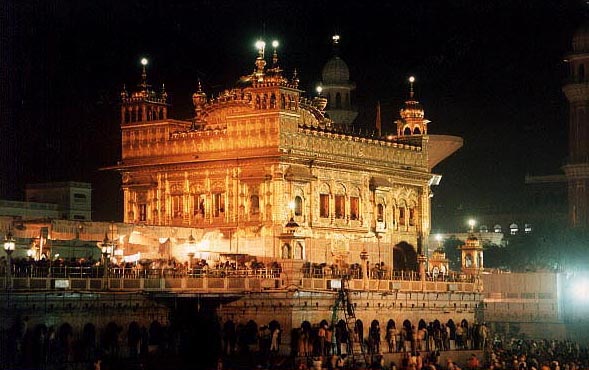 Pilgrims scour the foundation walls of the Golden Temple of Amritsar and work on the ground level of the moat at night.

Above all, I was pleased to see so many Indians working together peacefully on a common constructive cause, such a change from the dog-eat-dog every-man-for-himself lifestyle that I had become accustomed to seeing across this chaotic land. Inside the temple complex, the Sikh pilgrims were respectful and kind to each other and to foreign tourists like myself. All Sikh temples provide lodging and food to those who seek it, paying whatever they can afford to pay, and the Golden Temple additionally maintains a simple foreigners dorm room where I got to interact with other backpackers. We ate in the amazing mess hall serving chapati bread and dal (lentils) with factory line efficiency to thousands of hungry labourers. Some of the backpackers pitched a hand into the day and night cleaning. Without a doubt, this is the largest religious gathering I have ever witnessed and it was a gratifying experience for me even as an outsider. The spirit of dedicated unity and harmony is infectious.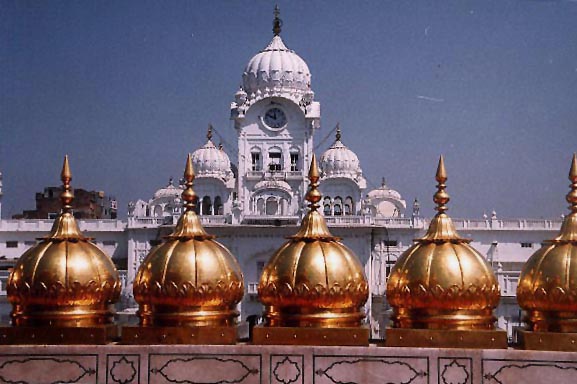 View of the western entry gate from the roof of the Golden Temple at Amritsar
Grungy cleanup pilgrims at the Golden Temple at Amritsar. Mmm, lunch time!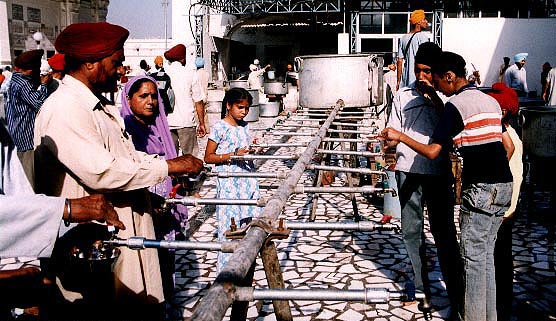 Tea (chai) is prepared in flame-heated vats, and pilgrims serve themselves through a clever pipe and multispigot system.

By bus, it was relatively quick crossing Punjab and heading up into the mountains of the state of Himachal Pradesh, which lines the western border of Nepal, divided by the 6000m Great Himalayan mountain range. My objective was the village of McLeod Ganj, near Dharamsala, and the home of the Tibetan government in exile and of his holiness, the Dalai Lama. McLeod was packed with tourists but surprisingly, only a relatively small fraction of them were there to attend the exceptional lecture series being given by the Dalai Lama, open only to experienced Buddhists. The rest were backpackers hanging out and enjoying the calm ambience, escaping the heat of India, and quite honestly, fleeing Indians themselves. The Tibetan dominated town is a low-key tourist centre geared toward Westerners, and most hotels are run by Tibetan families. The sudden lack of pressure was indeed a startling feeling and may explain why there are so many long-term travellers unwinding in McLeod. Tibetan momos rather than Indian thalis became the default dish, and it's fun to watch the many bald red-robed Tibetan monks and monkesses living daily life, haggling with merchants, banging out e-mails at the Internet cafes and milling about in the town square. A nice dayhike trail up to the ridge at Triund allowed for a great view of the snow-covered Himalayas. While it would have been fun to putz about a bit longer, my time was limited and I needed to head back down to the plains. On my way back to the nearest railhead, I spent a day at the 2000m hill station of Dalhousie, which was downright freezing at night, but afforded stunning Himalayan panoramas. I found a direct train from the north all the way through Delhi and on to Agra.

Of course, I was going to visit the Taj Mahal and they don't hesitate to pump the wallets of foreigners who feel similarly obliged to see it. Walled in and invisible from the city side of Agra, I was obliged to pay USD$15 to enter the grounds, an obscene sum that could cover 3 complete days of expenses for a backpacker in India. The edifice itself is lovely but honestly, it didn't look or feel to me to be any different or transcendent than the many pictures you and I have already seen of the Taj. There is nothing of note inside the building apart from a gloomy, unremarkable tomb. I appreciated mostly the fine details of the exterior facades, featuring fine designs chiseled out of marble and of inset precious stones, and of the tranquil gardens and reflecting pool on the grounds of the Taj. Aware of the nasty and aggressive reputation that Agra has earned, reviled almost universally by travellers, I made a quick escape to nearby Fatehpur Sikri for the night. I was quite disappointed by the ruins there, or more precisely the abandoned city, and the hassles probably weren't a whole lot gentler than in Agra, so I decided to move on quickly.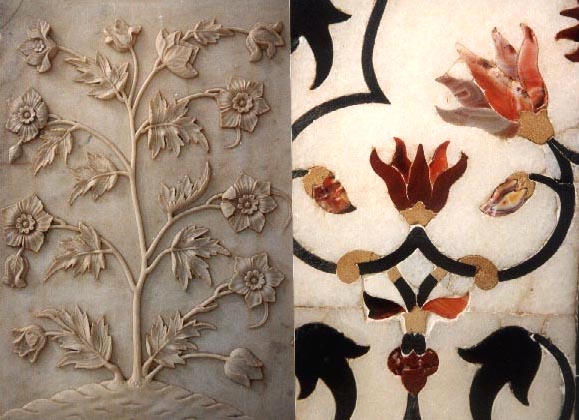 Some detail on marble and precious stones on the facade of the Taj Mahal, Agra, Uttar Pradesh

Upon a friend's recommendation, I decided to hightail it to the idyllic temple town of Orchha and it was excellent advice. Surrounded by bucolic farmland and populated by friendly locals, Orchha is a wonderfully peaceful resting base, and in fact, I met a Hawaiian fellow working all over India as a tour guide for 20 years who chooses to spend his off-time periods in Orchha. The mellowness of the village belies its tourist value, which is considerable. Sharp spikey temples, mausoleums and fortresses are liberally and generously sprinkled in and around Orchha. I'm amazed that it remains as untouristed as it is, but I know it won't last. Any traveller doing the Agra-Varanasi tourist route would be well advised to visit Orchha now. By this time, the mild intestinal problems that had begun to afflict me in Himachal Pradesh was worsening, and I wanted to get to Varanasi quickly to install myself there and recover. In so doing, I skipped Khajuraho, one of the most famous and respected temple cities in India. I didn't relish taking hours of punishing bus rides and getting hassled, while getting sicker by the hour. I do somewhat regret not seeing Khajuraho, but it just wasn't to be this time.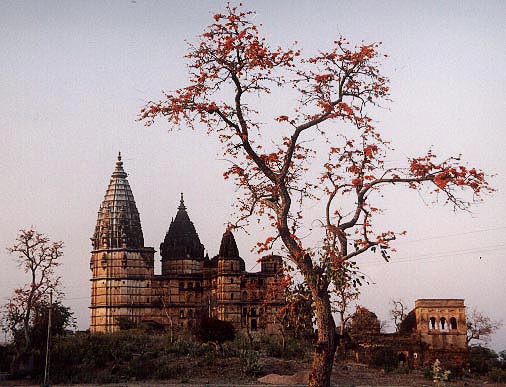 Chaturbhuj temple in Orchha, Madhya Pradesh

And so we arrive at my final destination in India, Varanasi or Benares, the most sacred Hindu town. Dying here, getting incinerated on a funeral pyre on one of the burning ghats (wharfs) and having one's ashes scattered over the sacred Ganges River promises better karma and better odds for one's next life after reincarnation. That's reason enough for a lot of believers to find their way to Varanasi and the faith is almost palpable along the ghats. The atmosphere pervading the old city is difficult to describe but it is definitely unique in India. Because of my unstable bowels and an unexpected transport strike in Nepal (my next destination), I ended up spending four full days in Varanasi, and it was a nice place to hang out, inexpensive and interesting. I got well mostly by eating strictly from the hotel menu, while other travellers were falling sick right and left around me (Varanasi is known for unsanitary food.) One Japanese girl was headed toward the rail station to go to Delhi when she became dizzy and started puking in the dorm room. She opted to remain in Varanasi and sought medical attention. Almost every traveller has some kind of gastrointestinal problem sooner or later in India and I was lucky to have avoided anything serious during my time. A Canadian man that I helped out in Delhi had fallen ill three times on the trip, and was eventually hospitalized to treat the recurring parasite infection. I was in perfect health my last couple of days in Varanasi and enjoyed sharing a boat with other travellers at dawnbreak to observe the rituals and sights along the ghats of the Ganges.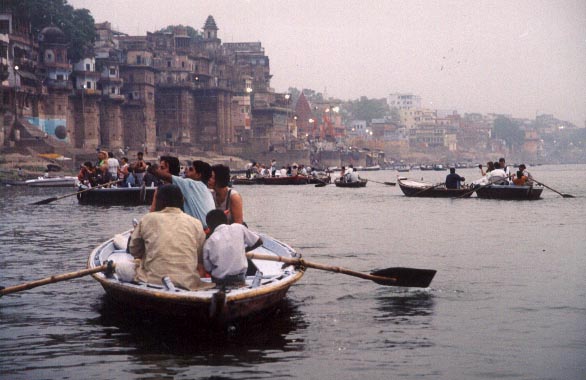 Indian and foreign visitors set out in boats on the Ganges River in Varanasi shortly after dawnbreak
.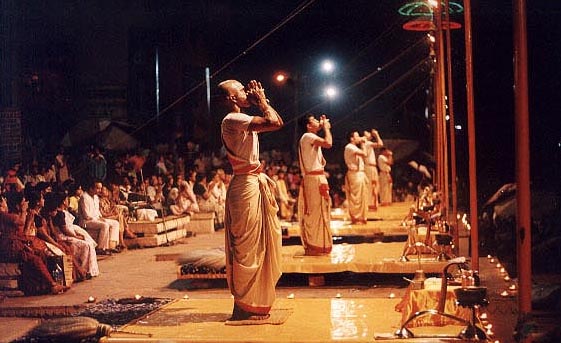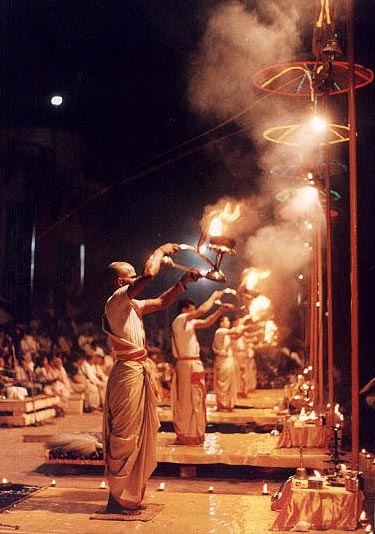 Every day at sundown, an elaborate hour-long Hindu prayer ritual transpires at the main Dasaswamedhgat ghat

The 3-day general strike called by the Maoist rebels in Nepal finally drew to an end, and that meant that I could head out toward the Nepali border. A part of me would miss certain aspects of India. Over the course of five weeks, I had gotten used to the pattern and tempo of life. I knew how things worked, what things really cost, and how to get around efficiently. More importantly, I learned how to quickly sort whom to trust or believe from whom not to, a critical survival skill in India. I would miss the pell-mell open market where you could find virtually anything you wanted quickly and at dirt cheap prices. I would miss the slow but strangely comforting trains. I would miss the distinct flavour of a culture that stubbornly resists the relentless inevitability of modernization and changing times. And of course there were plenty of things I would not miss about India too, and I had reminders right up to the end with unpleasant experiences and frustrations dealing with Indians. Some western travellers visit India for spiritual and self-development reasons and are charmed by the logical vagaries and uncompromising devotion of the Indian culture. Faith recognizes and respects faith. I confess that this was not a reason or motivation for me visit India, but I certainly got my tourist value out of India, a country resoundingly like no other.



BACK: PART 3 SOME LIKE IT HOT

NEXT: PART 5 YAK YAK YETI