NEPAL: April 2004



Nepal is a country that held many surprises for me. Most of my preconceptions about the kingdom turned out to be way off the mark. I had envisaged Nepal to be a tiny, mountain-locked country, sparsely populated by friendly, homogeneously Tibetan, buddhist citizens concentrated in Kathmandu. Well...I got the friendly part right. Otherwise, Nepal's geography ranges from the Top of the World all the way down to tropical jungle. The 25 million+ Nepalis are overwhelmingly Hindu (>90%), live mostly in rural villages and are segregated into ethnic regions that are stultifyingly different in their appearance and customs. Nepalis always guess wrong in trying to guess my origin, probably because they themselves are so ethnically diverse that anybody from eastern, central or southern Asia could pass for a Nepali. I think they just don't realize this. I am assumed to be Nepali, which turned out to be very beneficial in cities where foreigners are charged a relatively hefty entrance fee to enter certain touristic zones. If I keep my mouth shut, keep my camera in my bag and walk purposely, then I am Nepali. Never did I have this cover of anonymity in India. I was told again and again by local people that they thought I was a Nepali at first.

Seeing Nepal and India back to back underlined the stark contrasts between the nations. Nepal is much cleaner and tidier than India. I saw shopkeepers cleaning the streets in front of their stores, something I never saw in India. There are very few hustlers or touts in Nepal. Nepali merchants adapt their products and services to the needs and wants of their clients, which was almost never the case in India. Nepali kids actually smile and don't grow up learning a contempt for foreigners, which is the impression one gets in India. Nepalis are diffident and respect personal privacy and space. When they do open up from their reserved shell, I found them to be sincere and honest. Conversely, personal space doesn't exist in India, where you are fair game to be grabbed, cajoled, sneered at, pushed out of the way, or cheated. It seems clear why travellers feel more comfortable in Nepal. But why are these countries so different in so many ways? They share a religion, an Indian-dominated mass-media, and poverty problems, and there is no geographical barrier between India and Nepal along most of their shared border, like there is between Nepal and Tibet (in the form of the Great Himalayan mountain range). Nepal was closed to the outside world by the British forces for centuries, but effectively so was much of India. It's still a conundrum to me and hopefully someone can share some insight with me.

There is no railway in Nepal and all transportation in the country flows through essentially two principal east-west highways, linked by a critical connector highway in abyssymal condition. The state of repair of buses is considerably poorer than in India and the roads are comparable to the worst roads in India (and I say that having ridden once in an Indian bus that hit a pothole and flung me vertically 40 cm into the air, slamming my head onto the steel overhead luggage rack). Some tourists seem to get the impression that Nepal is wealthier than India, which I think is because Nepalis are cleaner, calmer and don't act desperately or get in your face. It is also the case that the commercial Nepalis that one encounters in tourist towns are much better off than the countryside peasants who never see tourists. But it is a country that does indeed have desperate needs. One newspaper article I read described a shift of some professional working people into vegetable farming because it was fast becoming a more lucrative career path.

The political stalemate between the apathetic, megalomaniac King (labelled a modern day central Asian Nero by some), corrupt and bickering political parties that never did anything to earn the public's trust when they had power, and the brutishly violent and dogmatic Maoist rebellion, has tuned out the average Nepali, who is stuck between a rock, a hard place and an even harder place. It is a hopeless lose-lose-lose situation and there doesn't appear to be any promising prospects for improvement in the near future. One respected Nepali international diplomat has voiced fears that the nation is on the verge of collapsing into a failed state, with eerie parallels to Cambodia in 1975, where a radically indoctrinated military managed to usurp control of a peace-loving kingdom from an impotent and ineffectual quasi-democratic central government, leading to indescribable horrors. On the ground, these problems hardly affect the tourist at all, and Nepalis of all persuasions are very careful about protecting tourism, as it is the second largest source of income in the country after foreign aid. They are grateful to have tourists, and fight their civil war behind velvet drapes shielding tourists from the fear and uncertainty in their hearts. No tourist has been killed during the many years of low-level conflict. Maoists are known to collect an arbitrary "donation" from tourists on popular trekking trails that they control, but they hadn't been seen on the trails that I took for several weeks. Government military roadblocks stop all buses along key points of highways and at entrances to cities, to search for Maoists and their arms caches. This tends to delay transit times considerably but cause no further inconvenience. Rock throwing confrontations between protesters and government troops occur frequently and regularly in Kathmandu, but never in the tourist districts of Thamel or Durbar Square. To many tourists, Nepal appears to be a peaceful, happy, friendly Asian alpine paradise; and that's how Nepalis would like you to see it.



PART 5: YAK YAK YETI



The spring trekking season in the Annapurna region peaks in March and by late April, the rainy season approaches and visibility tends to diminish, so I made trekking my first priority in Nepal upon arrival in the 2nd week of April. The western hub city of Pokhara is second only to Kathmandu in tourist traffic, and I found the Lakeside tourist ghetto to be surprisingly clean and modern and completely adapted to western tourists. All signs are in English and everybody speaks good English, even better than in Indian tourist cities though Nepal was never a British colony. Before entering Nepal, I had some concerns about the availability of merchandise in the country, but a quick glance up and down the main street quickly dispelled that fear. Plentiful restaurants served up all manner of creative dishes designed to imitate those from the tourists' native countries, and some of these concoctions are more successful than others. Still, they try hard to please and industriously make do with less than optimal supplies. Though it is a comfortable place to kick back, Pokhara itself is not a primary attraction. On clear days, the 7000m high mountainscape of the Annapurna range is clearly visible from town, and beckons to hikers.

I had originally arrived in Pokhara intending to find other trekkers or at least join up with a trekking group organized by a local agency to save on the costs of a guide. After a couple of days of footwork, I soon realized that this would be a difficult task because the peak time of the spring trekking season had past and relatively few trekkers were in town, and the few that were didn't want to do the Annapurna Sanctuary Trek, which I had my heart set on. Unlike the more famous Annapurna Circuit trail which goes around the Annapurna range, this trail leads straight up into the womb of the Annapurna peaks, culminating in the Annapurna Base Camp (ABC) at 4100m (13,500 ft). In a fairly short time, you get both the village life that has made the Circuit so popular, combined with the in-your-face Himalayan scenery that draw trekkers to the Everest Base Camp trail. So not finding any suitable groups for the Annapurna Sanctuary and not wanting to linger any longer in Pokhara, I set out alone with no guide and no porter. Pokhara natives assured me that there were no safety issues, the trails were well marked, and that there were always plenty of trekkers on the trail on any given day. All of this turned out to be quite true. Each day I joined up with one of many different groups and got to meet just about everybody along the route. The advantage of this method was that I was free to go at my own pace, make detours or stops as desired, choose my own lodges, and not have any set timetable.

On day 2 of the ascent, I veered off on a wrong trail thanks to not having a guide, and found myself in the middle of what turned out to be a Nepali New Year's (April 13 this year) party in a village gathering place not far from Chomrong. The villagers warmly welcomed me to join them, which I did for a few hours. They offered me tea and soft drinks and eventually even sat me down at the table of village elders and leaders at the back of the makeshift party tent, with the best view of the Nepali dancers that later took the stage. A couple of the villagers spoke English and cordially chatted with me, but overall, the trademark Nepali privacy prevailed and I was left to savour the atmosphere of the festivities as an invisible outside observer. The open warmth of their reception, without any pretense nor attempt to benefit from me, invigorated me and gave me a wonderful first impression of Nepali life. That a backpacking foreigner could be seamlessly slipped into an intimate local gathering, off of the main trekking route, without even the slightest hint of disruption is the most compelling testament to Nepali culture (or at least ethnic Gurung culture) that I could cite.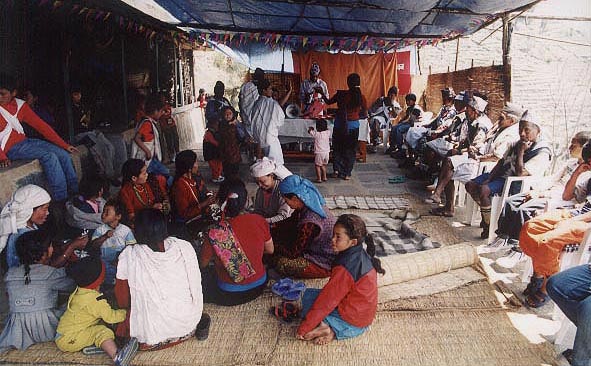 The party tent of the Taolu village New Year's party comprised of a circle of women weaving flower garlands for the evening festivities, onlookers seated on the side, and the table of village elders at the back of the hall.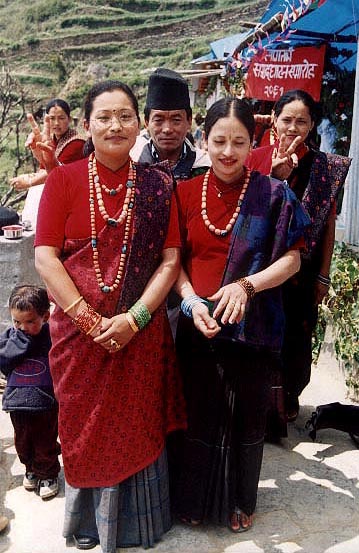 Taolu villagers model the latest in Nepali traditional costumes

After the first couple of days of climbing the steep ups and downs of Nepali trails, your legs and lungs start to get used to the routine, and so I found the last two days of the 4 day ascent up to ABC quite a bit easier than the first two days, though more elevation is gained and the air is thinner. Altitude problems didn't seem to affect any trekker that I had met, though one fellow suffered mightily from a parasite infection in his gut. On day three, we were pelted by a vicious hailstorm the likes of which I had never seen. A torrent of almost grape sized stones accumulated quickly and blanketed the ground with a 5 cm deep white layer in a matter of 20 minutes. The rest of the day proved to be a cold and wet experience, as I didn't have the time or foresight to waterproof my hiking shoes before starting the trek. From that day forward, precipitation would fall every afternoon starting around 2 pm in the afternoon, though mornings were usually clear and sunny. An early start to the day helps considerably in covering ground. On the last day of the ascent, we arrived in the Annapurna Sanctuary, a pocket enclosed 360° around by the snowy peaks of the Annapurna. It is a breathtaking gem of alpine panoramic scenery that held each and every trekker in its enthrall.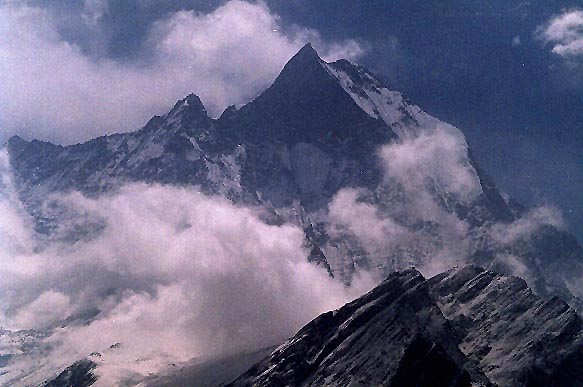 The Machhapuchhare (FishTail) mountain is the smallest of the great Annapurna peaks at just a shade under 7000m, but its distinctive, aesthetic form and its proximity to the trekking trail and to Pokhara confer an allure and legend that is unsurpassed. As viewed from the Machhapuchhare Base Camp inside the Annapurna Sanctuary.

Shortly after we arrived at the ABC around noon, a thick whiteout cloud rolled into the camp, but we learned from those who had stayed the previous night at the camp that there had been no visibility at dawn either, and so they decided to stick it out another night. Life inside the lodges is convivial and social, with trekkers, guides, porters, and staff all mingling around a large heated table in the dining room. In the near freezing temperatures, few choose to stay in their unheated rooms, and so every night is a little party in the dining room. The food at all of the lodges along the trail was surprisingly tasty and as it turned out later, better than what was served at tourist restaurants in Kathmandu, in my opinion. Or maybe it just feels that way after a few hours of trekking! And the meals are inexpensive considering that all supplies are carried from 2000m up to 4000m by human porters after the last mule-accessible village of Chomrong.

I slept restlessly that night, perhaps in part due to altitude adjustments and perhaps in part from excited anticipation. I woke up without the help of an alarm at 5:15 am, when the darkness of the night beats its initial retreat, and I stumbled outside into the crisp subfreezing predawn air. Many others were already positioned on the viewing ridge waiting for the sunrise, and nobody made a noise. The absolute cold, eerie stillness of the ABC is a palpable feeling that one cannot forget. The last time I had this feeling was over ten years ago in Montreal, when I went out in the middle of the night in -20°C temperatures to play ice hockey with friends on an outdoor rink and other pickup players joined in through the night. The first dawn ray strikes the top of the Annapurna I peak, one of the small handful of 8000m peaks in the world, lighting the tip with an orange glow that slowly descended down its great massif. A few minutes later, the first direct rays break out over the eastern peaks, illuminating the Base Camp. This dawn ritual delivered by the Himalayan heavens was one of the most awesome moments of natural beauty I have ever experienced.

In an ambitious manoeuvre to maximize my touring time in Nepal, I flashed back down the trail and returned to Pokhara in two days, to complete the trek in 6 days total. Most agencies advertise the Sanctuary trek as an 8 to 10 day trek. My knees and thighs weren't very happy about my strategy, but I did make it down without injury and was able to depart Pokhara the following morning and move on to my next destination to recover and relax.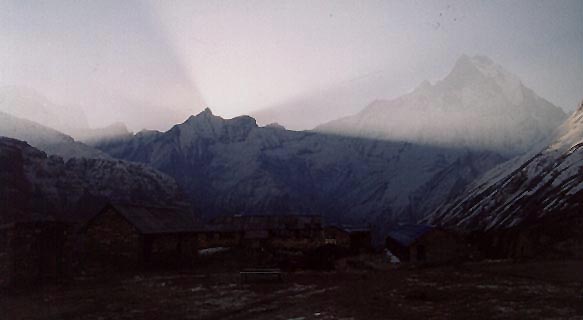 The first dawn rays break out over the eastern ridge, looming over the Annapurna Base Camp.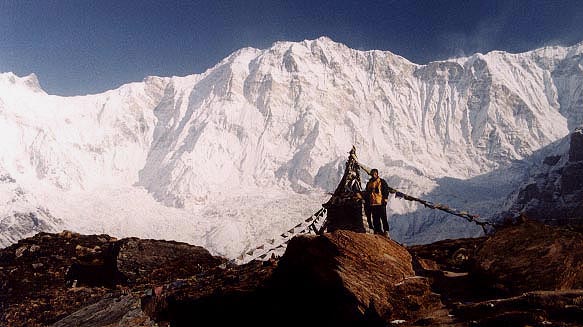 Standing at the Nepali prayer flags, commemorating the mountaineers who died climbing the 8000m Annapurna I peak, pictured in the centre above the stupa.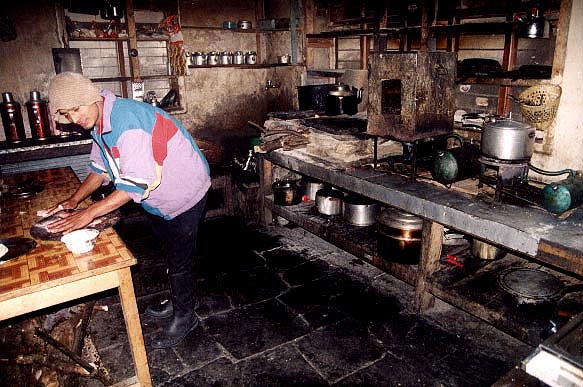 The cook at the Annapurna Sanctuary Lodge whips up dinner in the lodge kitchen. Kerosene is the only energy source in the higher reaches of the Annapurna trekking region.
BACK: PART 4 FEELING SIKH AND BHANGED UP
NEXT: PART 6 KATHMANDU, NOT CONSTANTINOPLE