Iran: Take Two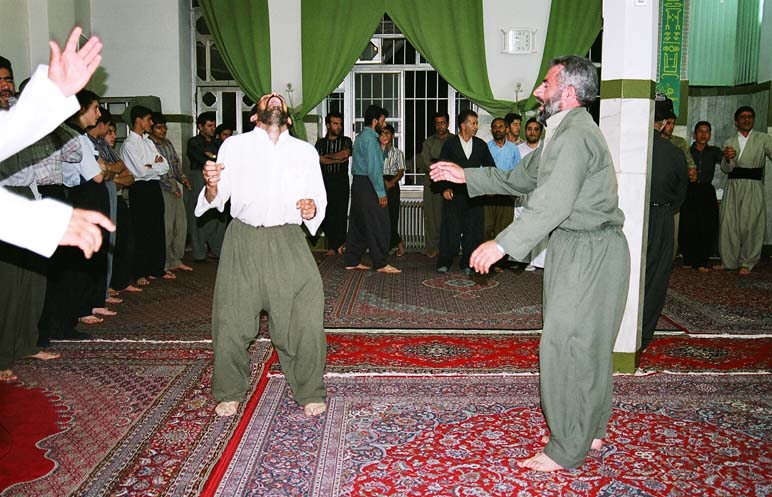 Dervish dancers get off on a Thursday night session in Paveh, a major sufi city in Iranian Kurdestan. Under the steadily accelerating rhythm of the taf musicians, a line of dancers holding hands snake around the periphery of the hall. When they start feeling it, individuals peel off of the line to spaz out in the middle of the floor.



I wasn´t intending to revisit Iran but it was simply the most expedient way to get down from the Caucasus to the Persian gulf without expensive backtracking to Istanbul and onward flights. Iranian visa bureaucracy was friendlier to me this time, using a new Taiwanese passport that I had to reapply for in Ankara. I took advantage of the opportunity to visit a couple of remote mountain village areas that I had missed on my first expedition.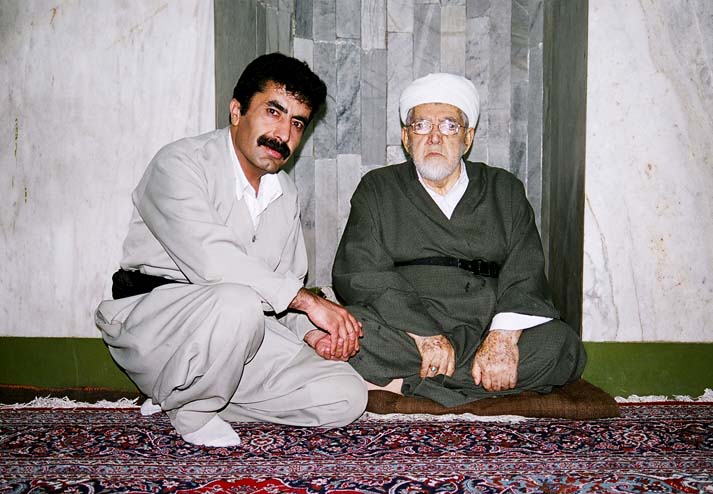 My host in Paveh, the gregarious Shahrogh in traditional Kurdish wear, with Sheikh Taha, the spiritual leader of the Paveh sufi sect. Shahrogh tried to convince me that Iranians believe that eating honey on watermelon (or fish with yogurt) will make you so dreadfully ill that it can kill you.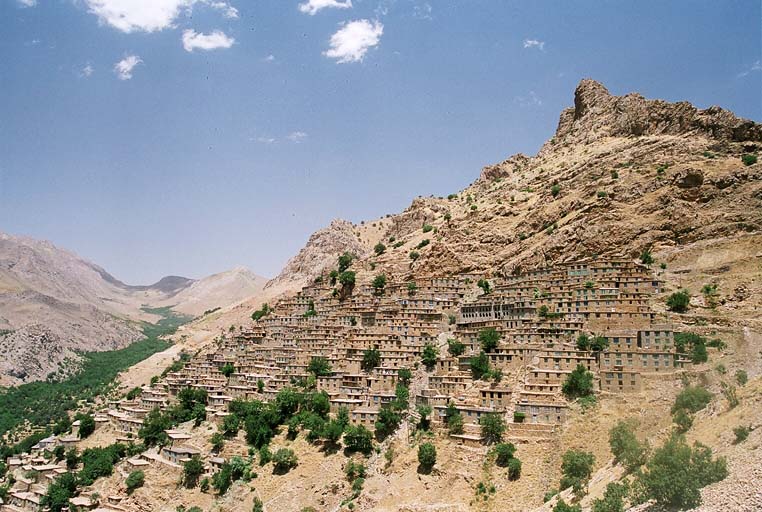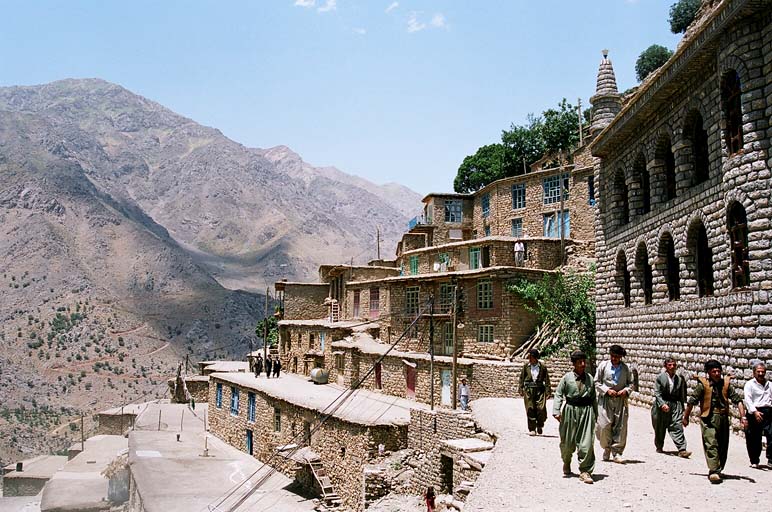 The mountain village of Howraman e-Takht is embedded so remotely in the Howraman valley that time and development almost passed it by. Still intensely conservative and traditional, Howraman is as eye opening as any place in Iran, from its dramatic site to its traditional stone masonry to the colourful outfits to the apparent indifference of these hardy folks to strange tourists wandering through. While far from the cultural tidepools of Tehran so far away, this village is located less than 10 km from the Iraqi border, where fellow Kurdishmen are busy trying to whip a new country into shape. The nearby border city of Merivan is reputed to be the site of heavy smuggling activities between the two Kurdistans, and I may have been picked up hitchhiking by a group of smugglers All seedy looking and uncomfortably aggressive, they spoke Arabic and Turkish and had been to Afghanistan, Turkey, Iraq and Turkmenistan, very odd vacation destinations for your typical Iranians. After they started asking me about my passports, and refused to pick up other passengers on the road in their spacious truck, I became nervous and quickly found an excuse to change my ride.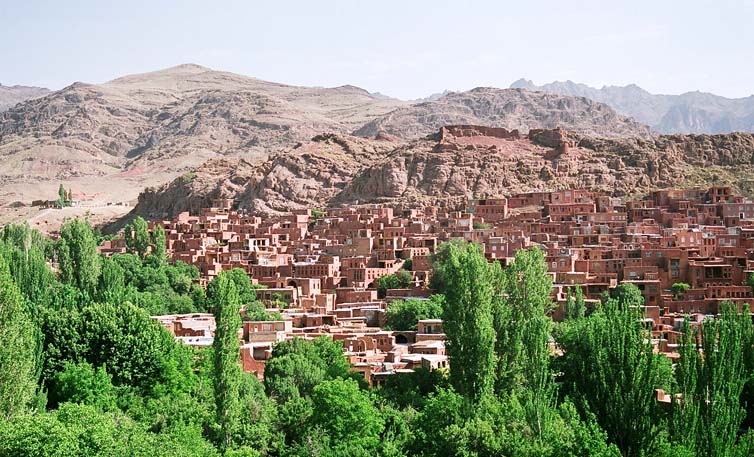 The mountain village of Abyaneh has a curious dual life. One is a gorgeous mountain village with mud buildings located not far from Natanz (site of the disputed Iranian nuclear reactor suspected of enriching uranium), where old men and women clad in centuries old traditional garb while away their sleepy agrarian days. The other is as a remote and cool haven for Tehran jetsetters who own a second home here and hold bacchanalian parties out of the disapproving purview of the mullahs. Most intriguingly, the two strata of this microsociety get along quite well, the youth adding a twinkle in the eyes of the grandmas and grandpas, and the smiling seniors providing an atmospheric and comforting shelter from the brutality and harshness of the big city for the cosmopolites. The truth is that hardly anybody cares much for the theocratic regime in Tehran that is helping nobody but themselves and their cronies, and those Iranians who speak English (even very religious ones) will have no hesitation in coming out and telling you how much they hate the mullahs.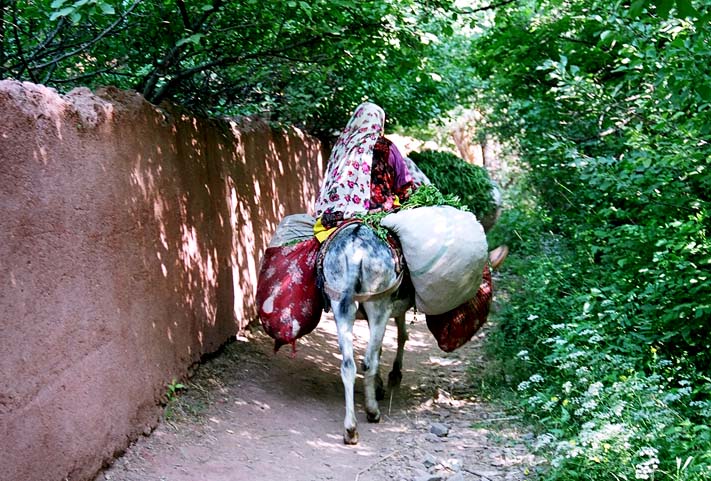 Abyaneh farmer bringing crops into town on her mule. There is no housing in the village apart from a luxury hotel, so I needed some luck arriving in the late afternoon. I was soon invited in by 3 teenagers leading a donkey around. Oh brother, I thought, but seeing as I didn't have many choices I accepted their offer, expecting to be taken to a farmer's hovel. Instead it turned out that the three were North Tehran brats from wealthy families spending a week in their Abyaneh home to look for antique artifacts in the nearby fortress. The donkey was a friend's, that they were using to try to make extra money offering donkey rides to daytripping tourists. The boys, one of whom is the rightful heir to the title of King of Abyaneh, had finished their whiskey the night before so they could only offer me simple foods and a shisha to smoke, and talk about skiing and their cars and girlfriends. It turned out to be a fairly interesting evening completely unexpected from the way the village looked on the surface. This is typical of Iran, a culture where nobody ever means what they say and real meaning lies deep below the subterfuge of words and appearances.