Azerbaijan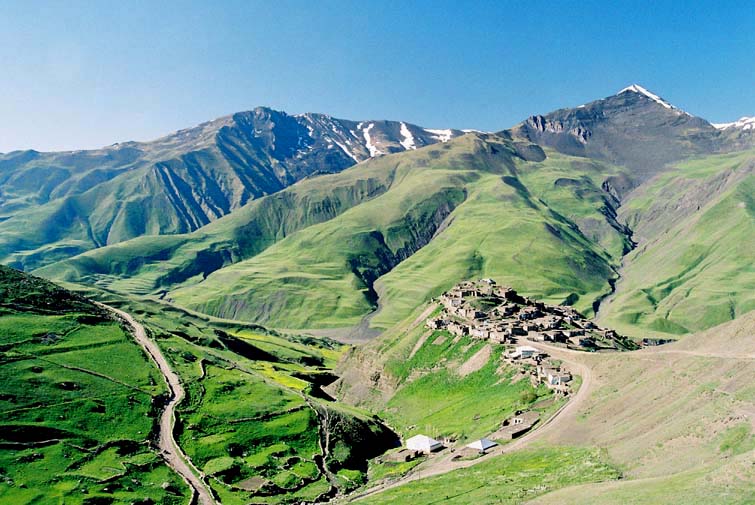 The mountain village of Xinaliq embedded in the Greater Caucasus mountains of northern Azerbaijan, not that far from Dagestan, is so remote that locals don't speak Russian, often don't even speak Azeri, but speak Xinaliqi, their unique village language. A very rough two hour ride over the worst road I've been on since Nepal takes you to Xinaliq, where there are no hotels, no restaurants, no stores even. A very hospitable family takes you in and feeds you in the best of both mountain and muslim traditions, and never ask for money (though it is customary to leave money for them). The scenery is lovely and refreshing though it still got too hot in the middle of the day.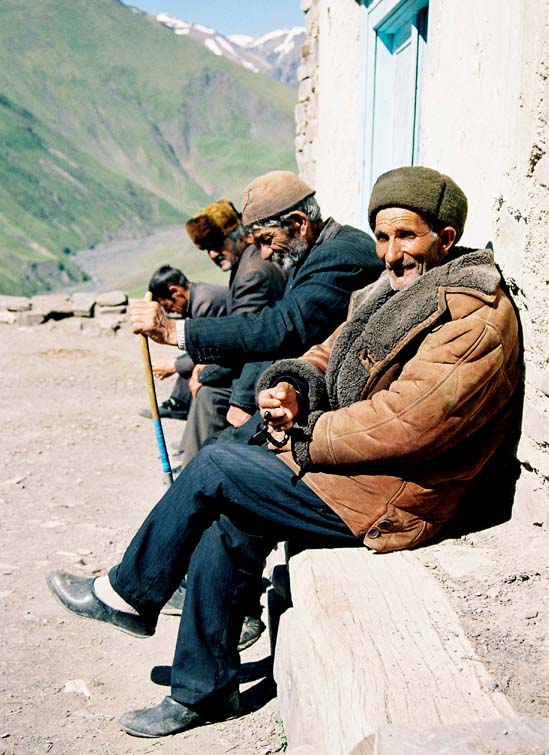 Xinaliqi village men hang out in front of the village social hall, and it seems that every traveller that goes to Xinaliq snaps photos of these same guys. Doing nothing is quite a respected profession in these parts. I was spotted arriving into the village in a Russian UAZ jeep by a guy whose job it seems is to sit outside and watch people come go, and pass on gossip and social information. That's how I got a ride out of the village. Talk to the village sentry and he knows which jeep might be going to Quba that day.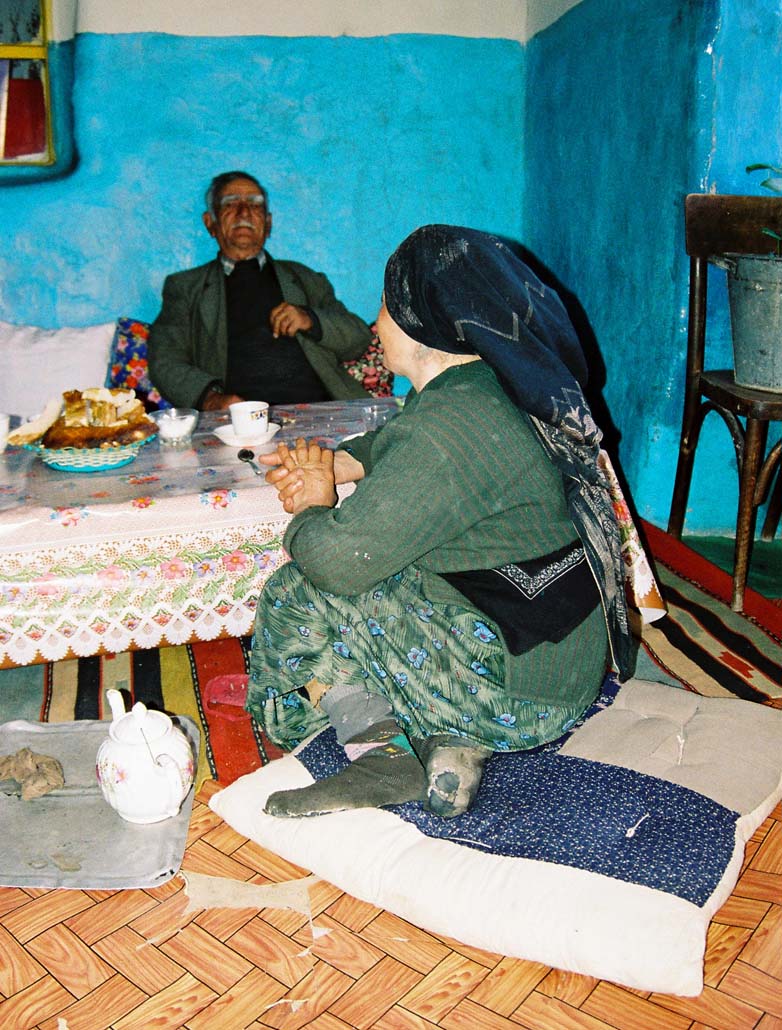 My hosts in Xinaliq, Mr Badal Laliyev, proud of being mentioned in Mark Elliott's Azerbaijan guide, the de facto gold standard book in Engish for Azerbaijan visitors and expats. He asked me if I had ever met Mark Elliott. No? Well, he has, *chortle* He even had a copy of the book in the house, which was very useful for me to pore through for information. Our food was very simple of course, and I was touched that they decided to open a can of tuna in my honour for dinner. Badal spoke a bit of Russian, fortunately, from having lived 2 years in Moscow. So proud of his foreign visitors, he spent endless hours making me look through the stacks of his photos that previous guests had sent to him. I did my share by sending him a few photos later on.

w.

blabla
blabla.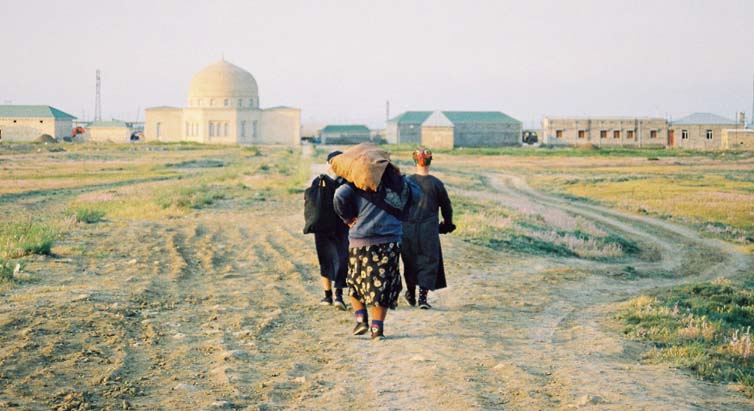 Locals descend from Bes Barmaq late in the day, probably having spent the day on the mountain making a living from the visitors who come to climb the distinct and eerie shaped mountain and the odd temple it houses at the summit. Bes Barmaq means five fingers in Azeri and a metal statue of a hand is the centrepiece of the altar for the Azeri muslim tradition which mixes in many animist beliefs. Nepalese-like prayer flags are strung all around the temple, nestled behind the tendril like peaks of the mountain which also resemble fingers.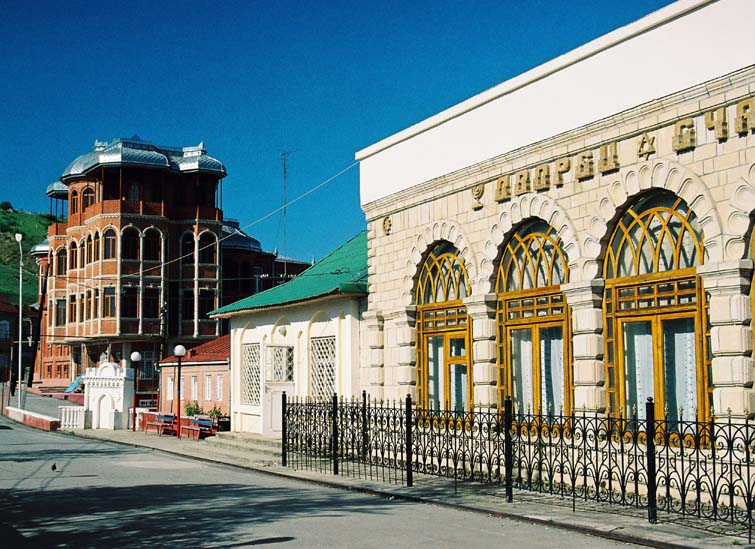 Where is the only place in the world on my trip that I have been greeted in hebrew, "Manish ma"? If you guessed the village of Krasnaya Slobodan in northern Azerbaijan, then you'd be right! Keeping its Russian language tradition alive in spite of Azeri nationalism, Krasnaya Slobodan stands as perhaps the only 100% jewish city outside of Israel. It stays pure because locals will only sell property to other jews, and while this doesn't necessarily breed resentment from the residents of the larger muslim city Quba across the river, then certainly the massive influx of money from relatives abroad does. Many of the younger residents have benefitted from generous Israeli immigration laws after the Soviet breakup to earn Israeli wages and send enough funds back to their families for extravagant mansions to be built and luxury cars to be driven around town. A new synagogue has been built, and this is probably the swankest looking place in Azerbaijan outside of Baku.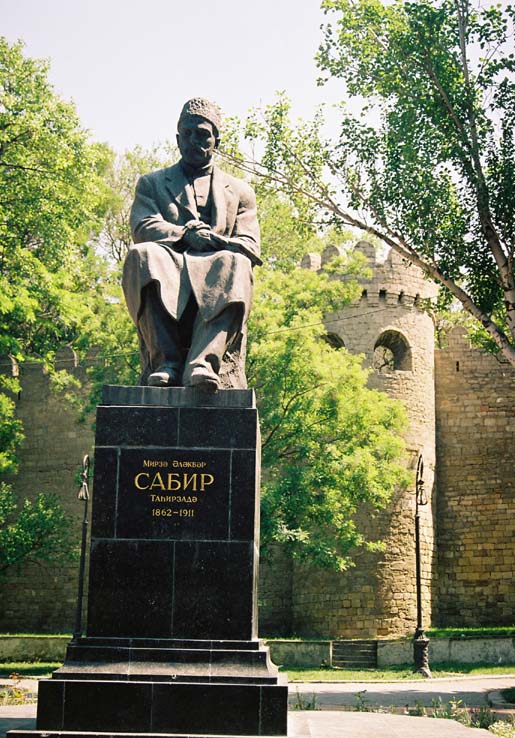 Don't let its old Soviet statues and traditional looking medieval old city walls fool you. Baku is one odd capital city, blending extremely conservative muslim values of Azerbaijani countryside (this is undoubtedly the most muslim republic of the USSR) with the stoic soviet values (and correspondingly loose morals!) and decaying infrastructure imposed from Moscow, and then overlaying it with the sheen of an international Dubai-like city lured in by its massive oil production and willingness to deal it on the open capitalist markets. It is true that Baku is not Azerbaijan, but nor is it likely anywhere else in the world either. My favourite telltale moment was a Saturday night visit to the Kakadu nightclub, home to cheap $0.40 vodka shots and a strictly local clientele. The back wall was a giant mirror and snappily dressed young men danced by themselves looking at themselves in front of the mirror, because they are not allowed to dance with women in deference to muslim gender separation. Then when they're done dancing, they stop at the bar to pick up one of the waiting prostitutes to take home. Of course it makes no coherent moral sense, but this is the paradox of Baku.


.


blabla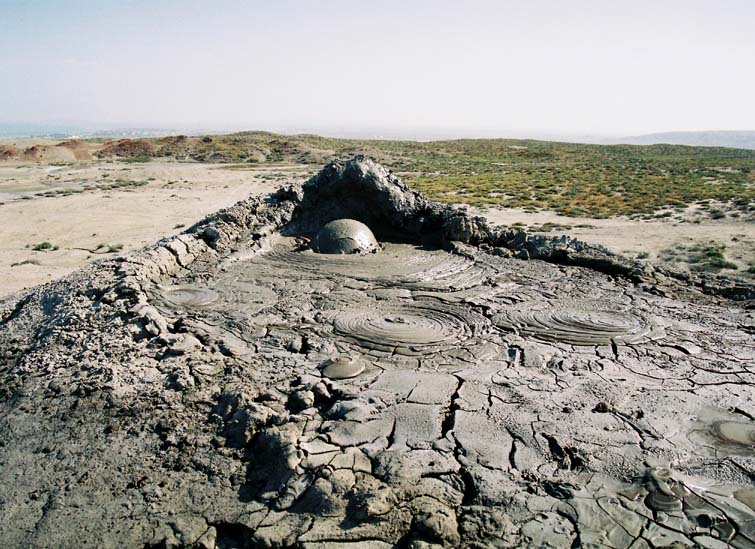 The Gobustan mud volcanoes bubble volcanic underground gases up through icky mud mounds. Every once in a while a big bubble explodes out of one of the numerous volcanoes with a noisy flourish. OK, it sounds dorky but it's not uninteresting to watch them go at it. Much more exciting than the nearby Petroglyphs in Gobustan in my opinion, the ones that resemble prehistoric petroglyphs found in Norway which lead Azerbaijanis to believe they are the ancestral Scandinavians.

.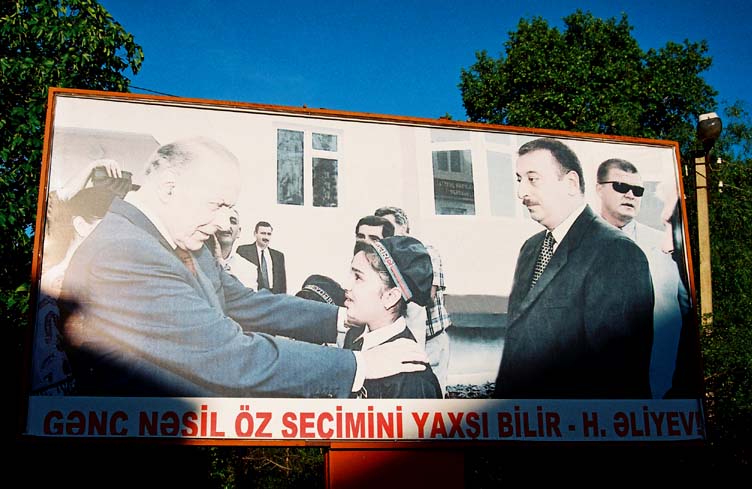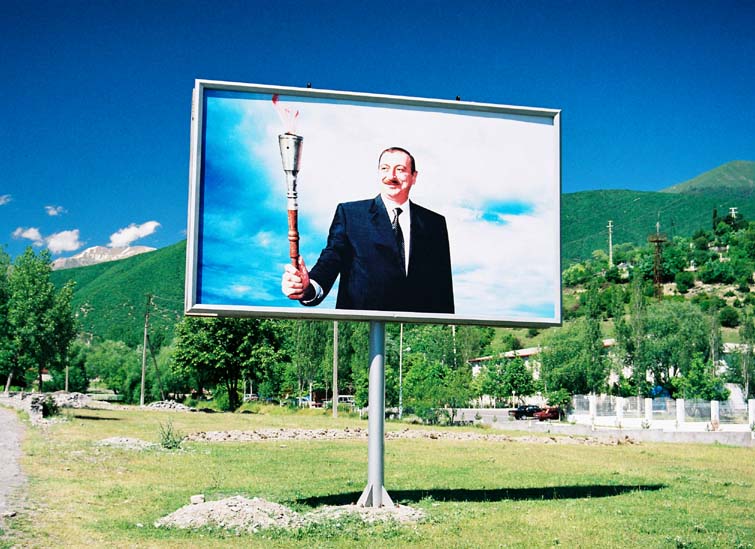 Our buddy Aliyev, one of the most colourful of the ex Soviet dictators. Father Heydar died in 2003 and subsequently passed his torch onto son Ilham, the one in front of the sunglassed bodyguard. Not to be outdone by ex-Soviet, turkic and oil-hording dictator Turkmenbashi in neighbouring Turkmenistan, they've plastered their images in every town of Azerbaijan and can only be jealous at the extreme control and idolatry that the Turkmenbashi has achieved. In case it's not clear, the Aliyev regime is by far and away the most authoritarian in the Caucasus. But it is also arguably the one with the best infrastructure and quality of life for its citizens.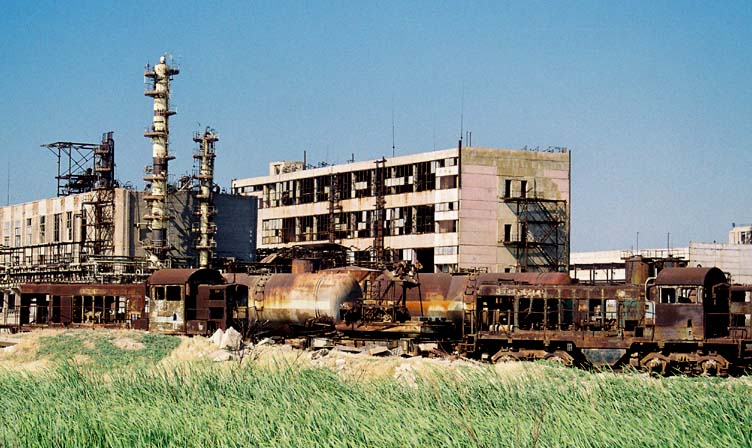 This is one of the pictures that landed me over 3 hours of interrogation by security and police forces in the industrial town of Sumqayit. I thought this was a derelict Soviet factory but was informed that it is actually a functioning chemical plant, blown out windows and all. Every level of interrogation asked the same questions over and over in Russian and it grew tiresome, right up to the chief of police of Sumqayit. Old Soviet methods die hard and I thought I was going to be sent to military interrogations in Baku, but it didn't come to that. As was the case with my Syrian interrogation there were glaring logical holes and obviously missing information in my story that they were not sharp enough to pursue, such as missing stamps in my passport, but I've always found it wisest to offer only the minimal information demanded. I had been threatened with prison though if I ever took any such picture again. They confiscated the roll of film in my camera, but didn't take this picture, the last frame of my previous roll that I had stowed away in my bag. It's a shame they took away some really lovely photos of some of the ruined train cars.