Mauritania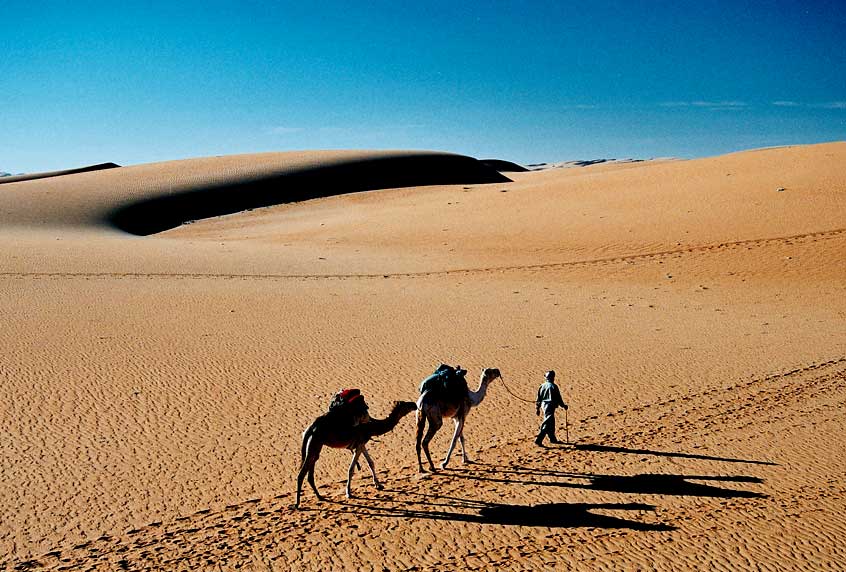 The obligatory desert trek with camel caravan across the Sahara. Tourists come to Mauritania for its desert, and its hospitable Saharan culture, unspoiled by mass tourism. There are signs of upcoming spoilage though in Atar, the principal basetown for French package tourists, so if you were thinking of going sooner or later, then go sooner.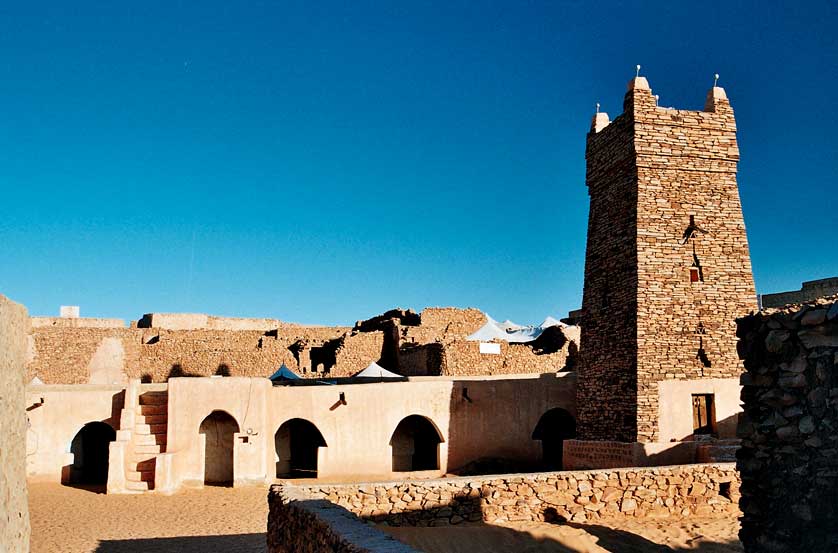 The stone mosque in the desert outpost of Chinguetti has been inscribed as a UNESCO world heritage site, along with the numerous medieval manuscript libraries also in the old town.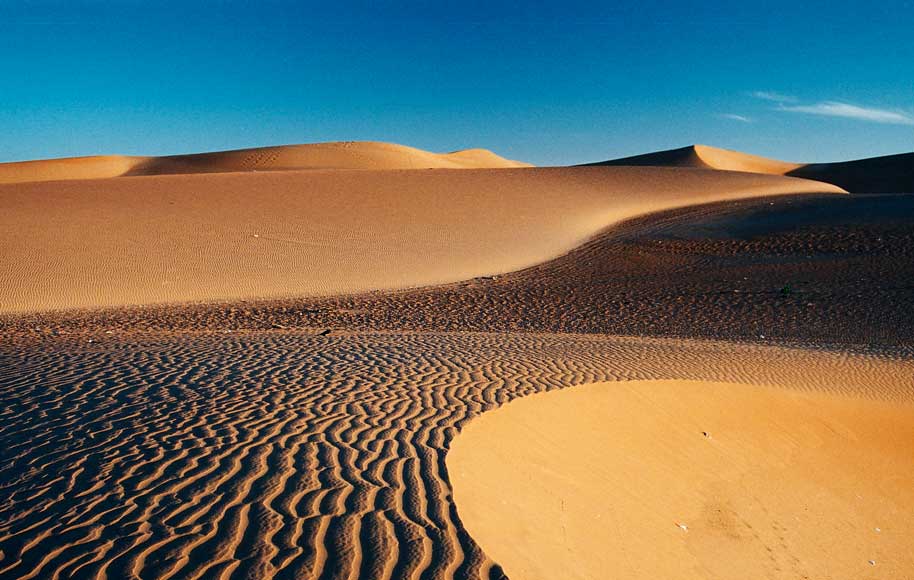 Mauritania is almost all desert, and one of the poorest countries in the world. However, a discovery of offshore oil two years ago, in addition to recent price surges in iron ore, has led to the World Bank rescinding of its debt cancellations, much to the consternation of Mauritanians. Oil is no sure panacea of poverty, as we have seen in other sub-Saharan African countries like Nigeria or Equatorial Guinea, but I have more faith in the more community-minded Arab cultures to distribute the proceeds more equitably.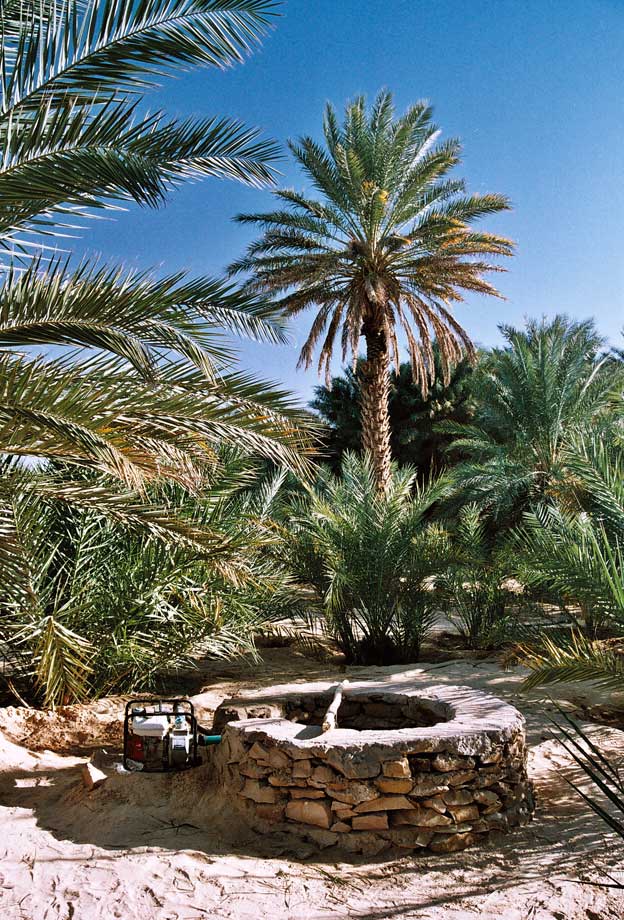 Legueilla Oasis, one of the popular endpoints of the 12 km (feels like 7 km) camel trek from Chinguetti. Prosperous date farming draw seasonal workers from all around the region, and pays for motorized water pumps. One of the surreal experiences we had was being invited for tea in the nearly empty tent of a bedouin and his daughter. At the end of the tea, he whipped out a pack of fancy high-tech antibiotic pills that some other tourists must have left him ages ago, and asked us how to use them. With his very poor French and my poor arabic, I'm not sure we helped him at all, but we left him some more useful knickknacks.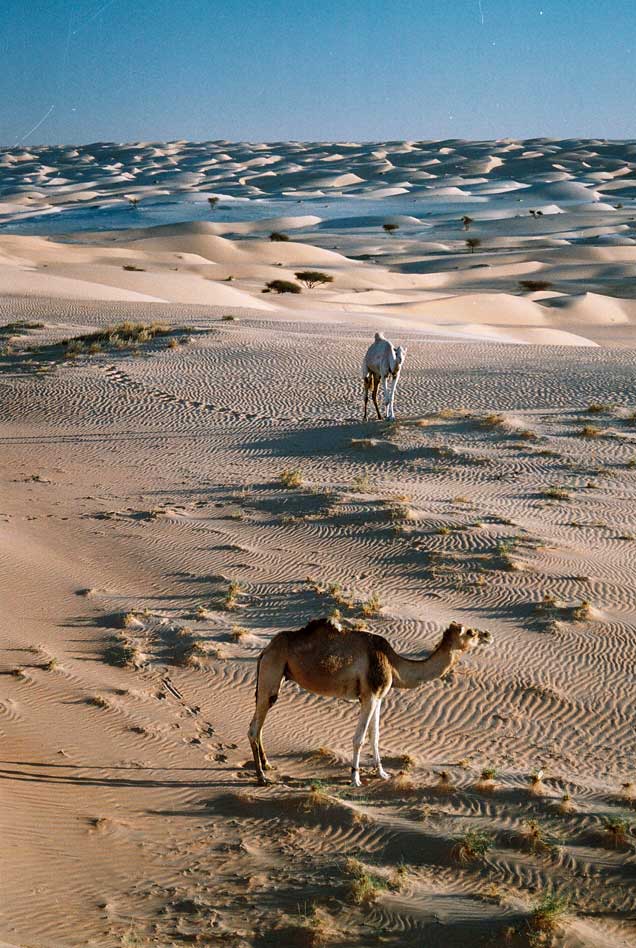 Camels rest up and look for chow on nearby dunes in preparation for the next day's return trip to Chinguetti.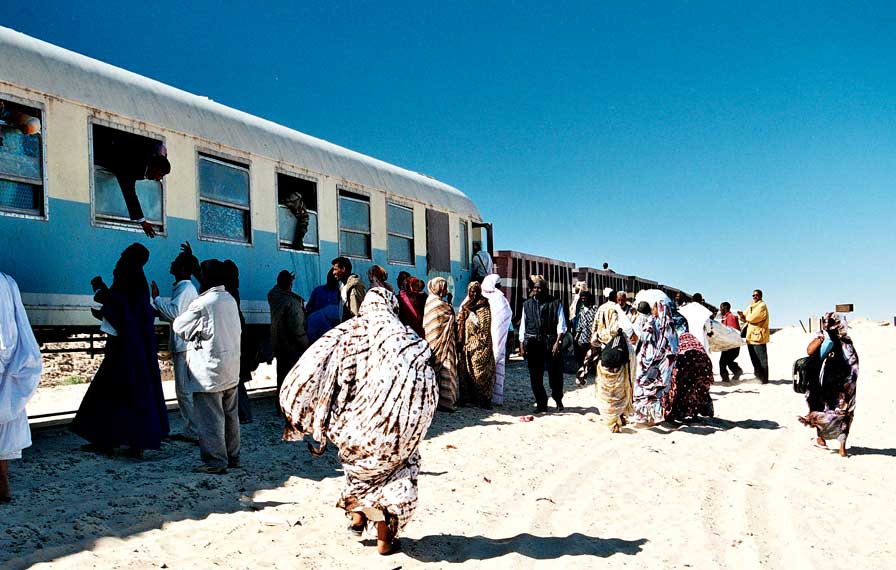 Oddly enough, one of the main objectives of adventure tourists in Mauritania is to ride the iron ore train, the 2nd longest train in the world and designed to bring iron ore from mines deep inland in Zouerat to the port of Nouadhibou for international export. Seats in the rundown, chaotic passenger cabin (on the left) are not expensive, but some hardcore travellers choose to climb into the free iron ore wagons (on the right). Heading inland, these cargo wagons are empty, but it gets really cold in there at night. Life in the passenger cabin is more pleasant. We were offered tea by our neighbours who had a mini-gas burner, and around midnight the young men on board got together and started singing and playing drums.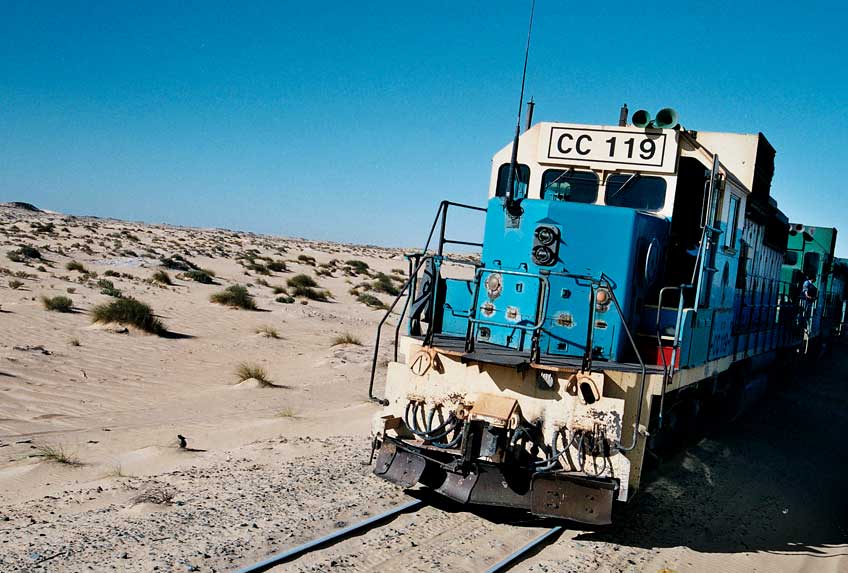 We're crossing another iron ore train heading toward the coast with cargo (and sometimes farm animals standing on top of the mounds of iron ore!). The route follows the southern border of Western Sahara more or less. Tourists always alight at Choum after a plodding 14 hours onboard, and need to wait for 4x4 transport onward to Atar. It was tempting, however, to have accept the invitation by our neighbours to continue all the way to the mining town of Zouerat.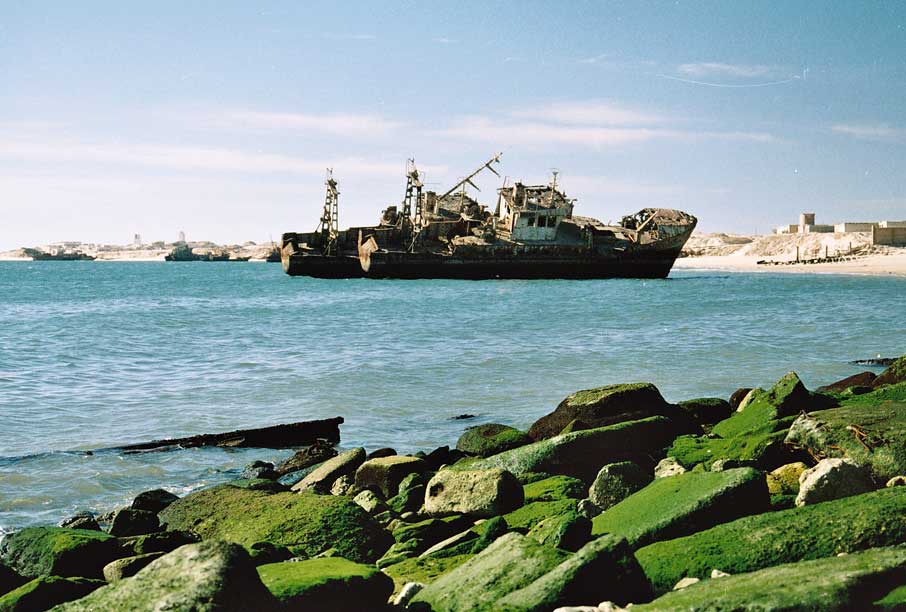 One of numerous shipwrecks off the coast of Nouadhibou, a coastal region also renowned for seabirds.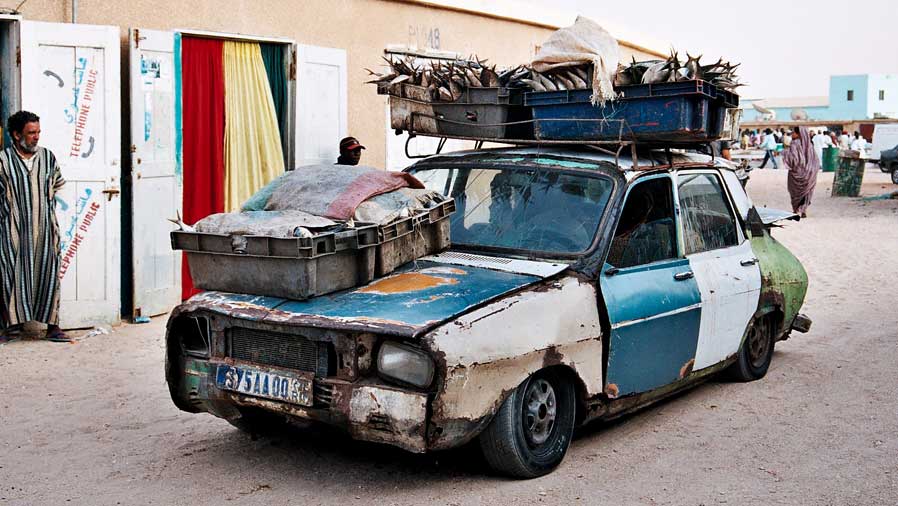 Another kind of wreck, but this one actually still works! Its owners were terribly reluctant for tourists to photograph this fishmobile but I snuck this one in quickly. By the time it left the fishing port of Nouakchott, no surface space on the Peugeot was left unoccupied. Later we passed it while driving back into the city. Mauritania is known for buying old cars and many tourists drive their cars down from Europe via Morocco to sell in Mauritania. The next country down, Senegal, has tougher laws governing used car imports, banning vehicles older than 5 years from being resold.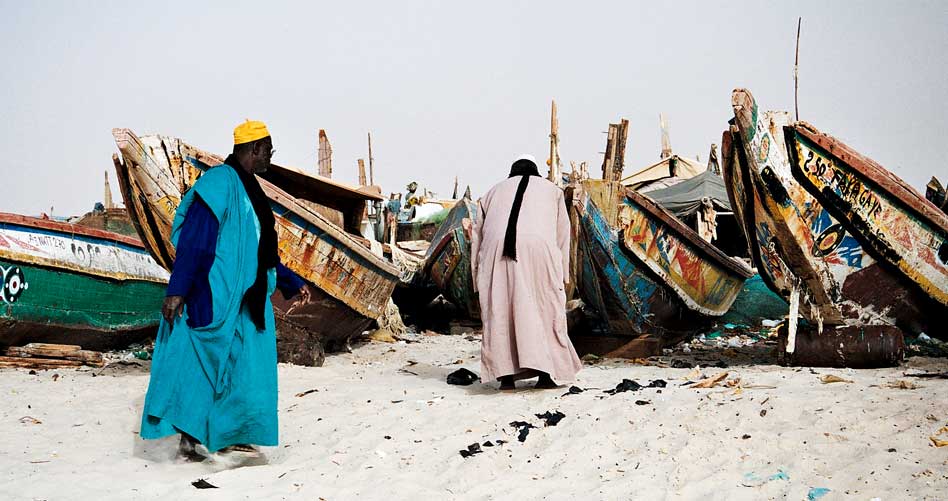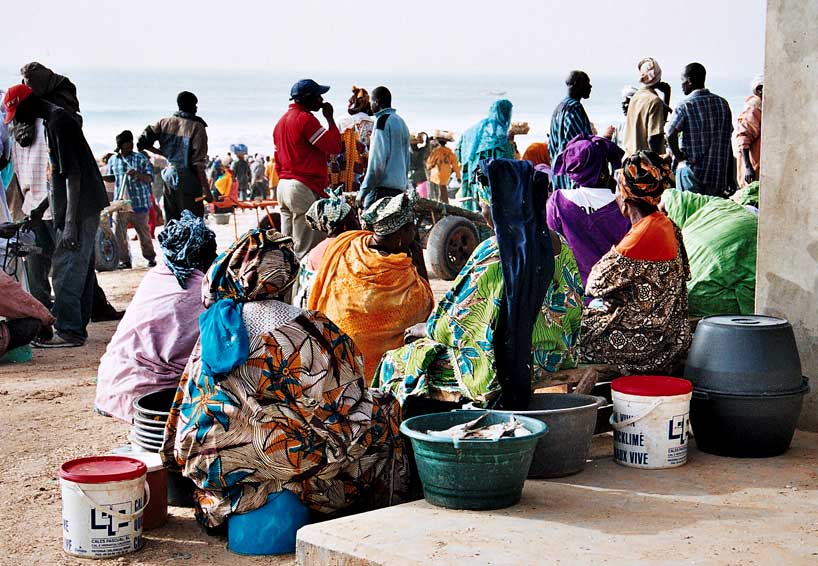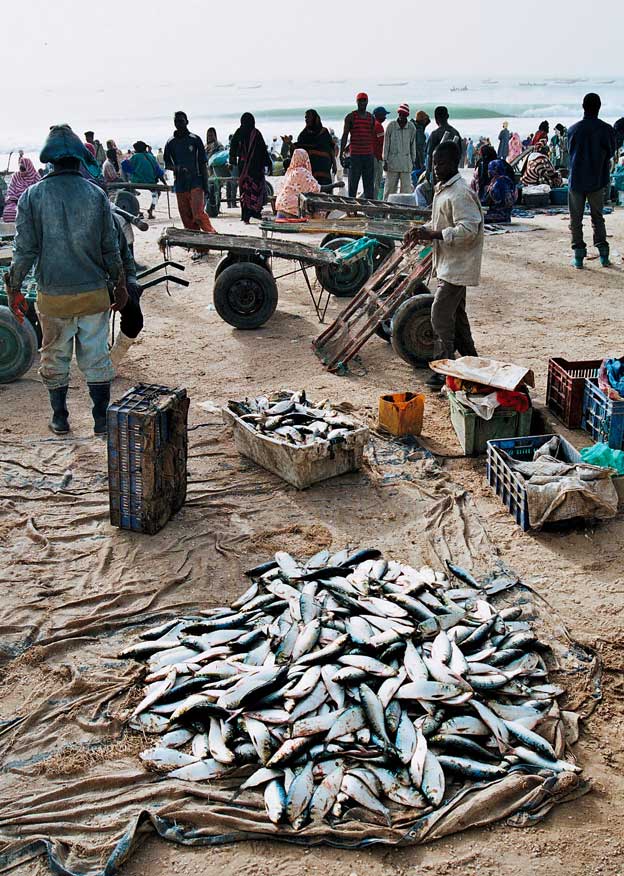 <>The very colourful fishing port at Nouakchott has a lot of similarities with the al-Hudayda fishing port in Yemen (see pictures in Yemen page) and it makes a lot of sense once you learn that the original arab colonizers in Mauritania were in fact Yemenites. This also explains why Hassaniya, the Arabic dialect in Mauritania, resembles very closely the dialect spoken in the Arabian peninsula, and very different from the Maghrebain dialects spoken in north Africa on the other side of the Sahara. In the second picture, the man is not puking but performing his late afternoon prayers.

>