El Salvador - Nicaragua - Costa Rica - Panama



A quick glance across these predominantly white former Spanish colonies might suggest a basic commonality of culture and language and traditions in the region. To my surprise, each of these Central American republics exhibited wildly different characters, from dialect down to fundamental values. Despite the small size of these nations, locals rarely cross the borders and have little first hand knowledge of how life goes on for their neighbours. In some cases, this results in exaggerated stereotypes, such as the pervasive Costa Rican perception of darker skinned Nica (Nicaraguan) immigrants and labourers as the singular source of crime and savagery in their country. In some cases, jealousies are created, such as the Nicaraguan envy of Costa Rican peace and stability or Guatemalan envy of El Salvador's rapid economic development in the past decade. Land ownership disputes provoked a series of "soccer wars" between El Salvador and Honduras that still leaves bitter feelings. Costa Rica and Panama, by far the wealthiest nations in the region, would seem to be natural trade and exchange partners, are surprisingly ignorant of each other, though there appears to be no feeling of resentment or rivalry on either side of their frontier. Observing such cultural interactions and contrasts benefits greatly from visiting the entire region on a single overland trip and this proved to be one of the greatest satisfactions to me personally.

In my opinion, the greatest triumph of Central America today is that every nation is a sovereign democracy, creating a contiguous democratic zone stretching from the Arctic down to French Guiana. Many people still associate with Central America the image of banana republics run by corrupt generalissimos fighting for either J. Edgar Hoover or Fidel Castro or even God himself. Throughout most of the 1980s and much of the 1990s, Guatemala, El Salvador, and Nicaragua were embroiled in bloody, seemingly endless civil wars where hope was distant and dreams of a simple life were just that, dreams. Well, now the hope is there and Central Americans can at least begin to dream, even though most of them still live in very poor conditions. War impedes all progress, and suffrage breeds self-empowerment, so I am optimistic about the future of this region. There still exist temptations to slip back into chaos, but so far they have been resisted. Guatemalans toiled and suffered through the entire elected rule of a shamelessly and openly corrupt president (Alfonso Portillo) before voting him out. Panama has just orchestrated its first peaceful, democratic handover of power since the US military overthrow of Manuel "Pineapple-face" Noriega. The same could have been said of Vicente Fox's election as president of Mexico a few years ago, ending decades of single-party rule. El Salvador and Nicaragua have both organized free and fair elections in recent months, and the latter has just won access to significant sums of aid grant money for development from the United States government. That such a dramatic transition from banana republics to upstanding democracies, warts and all, could have taken place in recent years without even so much as a nod from international media (usuallyl more interested in wars and global political intrigue) is a tremendous testament to the humble but indomitable will of the Central American people to work hard for peace and development.

And let me just put in this plug to voice my opinion on a common contentious coffeehouse topic vis a vis Central America. The United States (and the Soviet Union and Cuba as well) fully deserves to be exposed and judged for its covert Cold War machinations interfering in internal Central American affairs, ignoring completely the needs of struggling local peasants in favour of geopolitical priorities. On the other hand, the United States has also played a pivotal role in stabilizing the volatile region politically and economically since the end of the Cold War, and deserves its share of credit for that as well. This is not a selfless act, as stability pays rewards to the United States as well, but welcome in a region that had grown more used to seeing Kalashnikov and M-16 rifles than to seeing new shopping centres opened and roads paved. Slow and (hopefully) sustainable, development may not be as headline-worthy as CIA coups d'etat or rebels in the jungle reciting Che Guevara passages, but I'd bet that most ordinary folks there would reaffirm the adage that no news is good news. I didn't realize before this trip how intimately the Central american economies and well-being are tied to the United States, in every way. Bidirectional trade flows not just in tropical fruits, but in labour, financial services, petrol refining, ecotourism, forestry, heavy machinery, textiles, among many other products and services. Much of the capital fueling current day development comes from remittances sent to families by their relatives working in El Norte, whose service economy depends in great part on immigrant labourers (legal and illegal) willing to work jobs that others won't. The values of the Central American currencies fluctuate hand in hand with el dolar. The synergy between the economies is obviously more critical for the well-being of Central America than for the United States, but stability benefits everybody. Empires are built one person at a time, shop by shop, road by road. Tolstoy's novel Anna Karenina opens, "All happy families resemble each other. Each unhappy family is unhappy in its own way." The same may eventually apply to the Central American republics.

El Salvador

Nowhere is the power of remittances more tangible than in El Salvador, a poor nation wracked by an extended civil war, followed by Hurricane Mitch in 1998, followed by a disastrous earthquake in 2001 that left thousands of dead and injured and three-quarters of a million homeless in a country of six million people. While the personal tragedies can never be reversed, Salvadorans have made exemplary use of the diaster relief funds that arrived in the wake of the disasters. The rebuilt highways and roads are the best I saw in Central America, and frankly, better than most in the first world. New commercial and residential complexes are springing up all over San Salvador. Corruption has been minimal, facilitating the flow of capital to infrastructure projects, and this has already started paying dividends. El Salvador has the fastest growth rate in Central America and has turned heads in the world economic community. Apart from incoming capital from remittances, Salvadorans who'd fled the civil war have been returning from the United States, bringing their dollars with them. I was told that up to a quarter of Salvadorans during the period of the civil war had lived in the US at some point. Perhaps this explains why the new San Salvador looks and feels so American, right down to the curbs, traffic signs, donut shops and strip malls.

Few outsiders have witnessed the resurrection of El Salvador. There is virtually no tourism in the country, by far and away the least visited in Central America. There are no really impressive ruins or heritage sites. There are no cute colonial towns. There is only one distinct Salvadoran artistic style, and many artisanal products for sale are imported or copied from neighbouring countries. Virtually all of the backpackers whose paths I crossed had darted around El Salvador through Honduras, and I might have done the same if I hadn't planned to visit in San Salvador the sister of a friend who works in the diplomatic community, and who showed me around during my weekend in transit. We visited the El Imposible national park, where the most impossible part of it may have been in successfully finding the back entrance to get in. It is a pleasant highlands park with some wild animals in a nation with severe deforestation problems, but nothing phenomenal.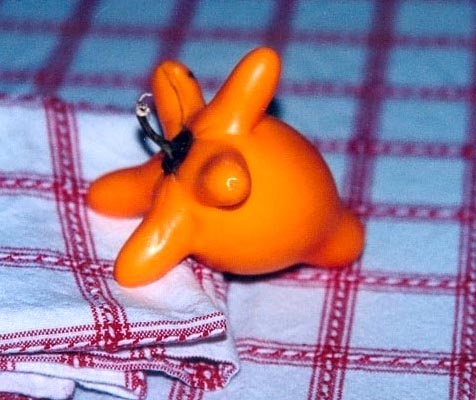 A odd looking fruit apparently only found in El Salvador. Not supposed to be very tasty but hey it looks cool.

Though the tourist buzz surrounding El Salvador is virtually nil, the two backpackers I met who did venture in El Salvador absolutely loved their experience. Salvadorans, despite their hardships, are the friendliest people in Central America. It seemed to me be a sincere, straightforward and unconditional warmth. Because the tourist infrastructure is not quite in place yet, there is no competition for access to beaches or lodging. Apparently, it wasn't so long ago that you could have had an entire Pacific coast beach to yourself. The major drawback to visiting the country is its pricetag. Food and lodging are quite expensive for a nation of its wealth, perhaps due to the limited supply of tourist facilities.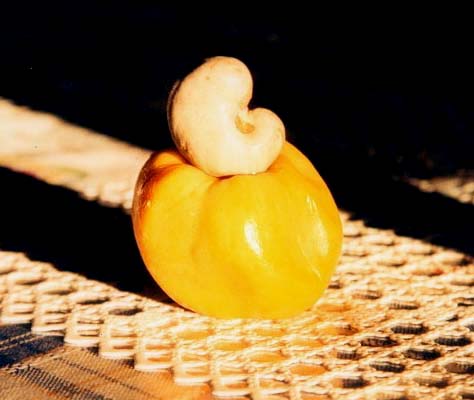 The marano, or fruit of the cashew nut, is found all over Central America. They seem to like it down there, but it was far too astringent for me.

Nicaragua

For most people, the name Nicaragua conjures up images of civil war, the Somoza dictatorship, Sandinistas and Contras. Some people are aware of Lake Nicaragua, largest saltwater lake in the world, and a handful of history buffs may remember that original plans to build a canal bridging the lake to the flanking oceans were later dropped in favour of another propitious site in Panama. But beyond this, it is quite amazing how little anybody really knows about this fairly sizeable Central American nation. The heavily geopoliticized war was protracted, but probably no more horrific than the Guatemalan civil war which encompassed human slaughters and ethnic cleansing. In its wake, political mood swings and sweeping changes in government have delayed progress in getting the country back on its feet. The capital Managua still looks like a destroyed metal siding shantytown. The extensive wartime deforestation and consequent desertification may unfortunately be an irreversible process. Nicaraguans generally appear weary, short-tempered and cranky, whether because of their problems or by their culture. They don't take no guff from anyone. Guatemalans have a similar reputation but are not quite as brusque as Nicaraguans, perhaps because they have more exposure to tourists. Stories of armed robbery and rape are not uncommon. In short, Nicaragua feels like a wild, rough and ready frontierland, your quintissential banana republic where anything can happen at any moment.

But perhaps therein lies its charm. Nicaragua doesn't hide its rough edges, doesn't try to sweet-talk you, and looks you square in the eyes. I was eventually won over by this forthright sincerity and interesting atmosphere. Oh, it's not where you'd take the kids on holiday or send gramps and gramma to retire, but for the independent traveller, there are many rewards. And it's not a secret anymore for those in backpacking circles. Some young travellers plan Nicaragua as the focal point of their central american tour. It's probably the cheapest country in which I've travelled in Latin America. The beaches are not overrun by tourists, the waves are reportedly great for surfing, the virtually unknown colonial towns are as dazzlingly beautiful as any other in the region, and transportation is quick and efficient, if crowded. Riding a city bus across Managua during rush hour to get from one bus terminal to another may be the most crowded experience I've ever endured (and I'm writing this passage now after having visited India). I couldn't get out of the bus when I saw my stop, and the surly Nicaraguan passengers made not the slightest effort to help the foreigner get off. I eventually had to physically and literally push my way through dozens of people to get off, two stops later. But that is normal life there.

I'm going to say this right now: Granada, Nicaragua may be the most beautiful city in Central America, by any standards. On this trip, the only other colonial cities in the same class that I visited were Antigua (Guatemala), Guanajuato, and Campeche (Mexico). This centrepiece of Nicaraguan tourism is in perfect condition. The dominant blue and green pastel shades of Granada offer a pleasant contrast to the predominant red and yellow hues of Antigua. Its site beneath an active volcano and on the northern shore of Lake Nicaragua is hard to beat. Granada is the only Nicaraguan city with a well developed tourist infrastructure and I was surprised by how many tourists, both the adventurous and the grouped-masses variety, were already there. I consider myself a well informed world traveller, but I had no idea that this was such a gem of a city.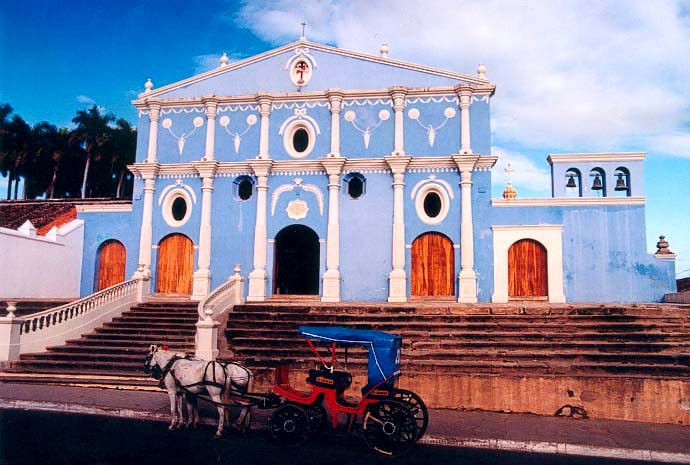 Believe me or not, but all of Granada, Nicaragua is as delightful as the San Francisco church just a block northwest of the plaza central.

The "other" major colonial city in Nicaragua is Leon, reputed for his political and intellectual activism. It's a bigger city than Granada, but not nearly as colourful or pretty overall. There are very few tourists in Leon and it has the grittiness of a city that functions, rather than a city that preens in the mirror. Still, its churches are second to none. I've put up some photos of churches for you to get an idea of the eleganceof colonial architecture in Leon and Nicaragua in general.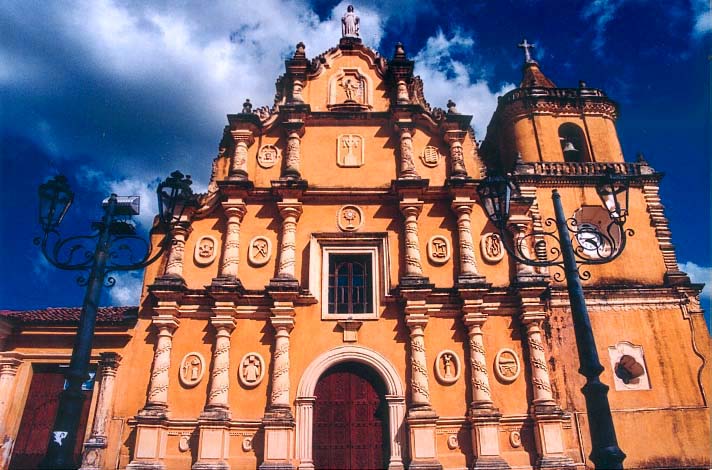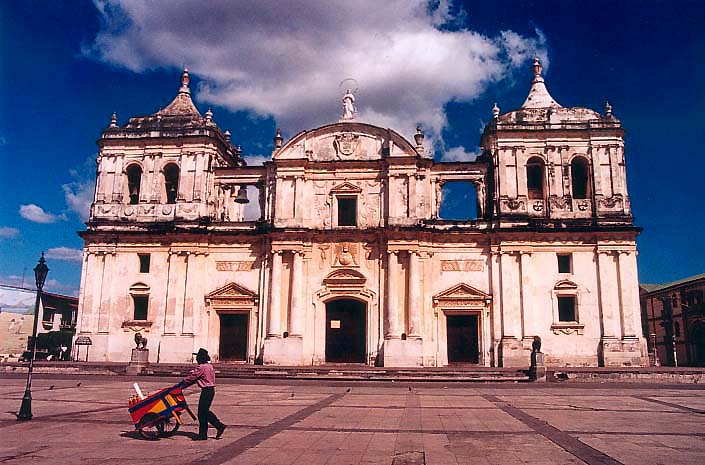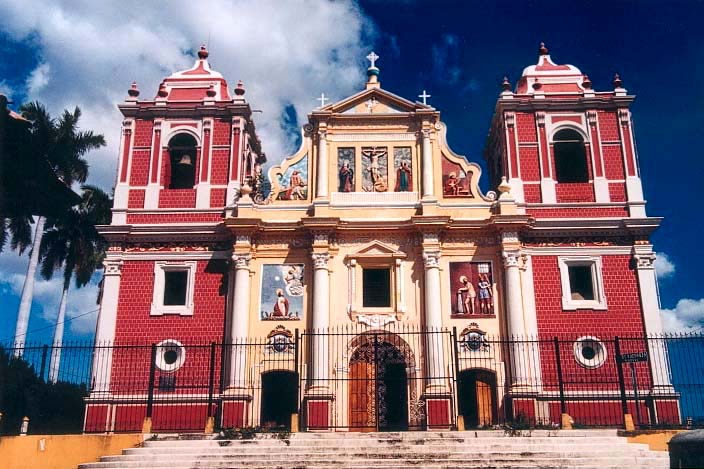 Three churches in Leon, Nicaragua. From top to bottom, la Recolecction, la Catedral, and El Calvario.

After Leon I looped back to Granada in order to take a boat to Costa Rica, across Lake Nicaragua. It's more common to take a bus from Granada to San Jose, Costa Rica along the Carretera interamericana that runs down the continent not far from the Pacific Ocean. However, I was aiming to reach the secluded Caño Negro national park in Costa Rica, which is situated on the Nicaraguan border and closer to the Carribean coast, well removed from the main highway. For this trajectory, the 12 hour overnight ferry boat ride across the lake was more efficient and undoubtedly more pleasant. Conditions on the main deck of the boat were horribly crowded with locals and their produce and their livestock, leaving virtually no space for them to lie down on the hard floor. Fortunately, a first-class cabin on the upper deck is available and all but the most cash-strapped tourists avail themselves to this much more comfortable compartment with air conditioning, security watchman, and padded bench seating. I had a pleasant time chatting with a retired Wisconsin couple and after they got off the boat at Ometepe island, I spent most of the night chatting with a Massachusetts girl who was just about to finish her three year stint with the Peace Corps in Nicaragua (and very happy to be finishing). The ferry arrived into the port of San Carlos early in the morning and I spent a few hours milling about in this small and dusty Nicaraguan village while awaiting the daily motorboat sailing to Los Chiles, Costa Rica. Since this is an international cruise, passport formalities need to be undertaken on both ends. The Nicaraguan end was easy enough, but the Costa Rican bureaucracy required long waits because of strict immigration controls on incoming Nicaraguan labourers, for whom Costa Ricans have a deep mistrust. Though I was very groggy from not having slept enough on the overnight ferry, the hour long lancha passage down the Rio Frio was a thrilling experience. Wildlife abounded along the riverbanks. Two species of monkeys, white-faced and howlers, cavorted about from tree to tree. A family of turtles darted underwater from their rocky stools. A crocodile lounged on the riverside under a shade tree. All manner of colourful water birds, for which this tropical jungle area is famous, flitted over and around us. I didn't realize until later on this trip that this would be the densest concentration of wildlife that I'd see anywhere in Central America.

Costa Rica

My high school friend Bill and his mom were waiting for me in Cafe del Parque in Los Chiles, exactly as we had planned in advance. They had just flown into Costa Rica from San Diego a couple of nights earlier and woke up before 6 am to catch two different buses making the passage from Alajuela, in the central highlands of Costa Rica, all the way out to the lost corner of Los Chiles in the eastern Carribean lowlands. Meanwhile I had floated across Lake Nicaragua, across the Costa Rican border, and upstream through the Rio Frio to meet them at the preset rendezvous point. Our last contact had been by e-mail when they were in San Diego and I was in Granada, so fortunately nothing went awry in the meantime. We hired a boat at the Los Chiles docks to take a cruise along the Rio Frio toward the Caño Negro reserve and the wildlife was much the same as on the Nicaraguan side of the river, with the addition of a sloth sighting. The preserved park areas of the two countries are vast and abut along the border in this remote region. Exploring the backwater channels feeding into the Rio Frio was interesting for the change in vegetation and trees, and everywhere you see brightly coloured kingfishers and other tropical birds. We stayed the night at a fleabag hotel in Los Chiles and left town by bus early the next morning.

Because time was limited, we decided to head straight toward the Arenal volcano and the Monteverde cloud forest rather than back to our base in Alajuela, where we could stay in a house owned by Bill's relatives. The tourist hub of Fortuna sits under Arenal, one of the most active volcanoes in the world. Unfortunately at that time of year, cloud cover is common and indeed we did not see any of the fire spewing out of Arenal. Fortuna is very touristy and quite expensive, as all tourist hubs in Costa Rica turned out to be. Costa Rica has become rich from ecotourism and the predominant clients are Americans who select this destination nation because of its security, hygiene, infrastructure, and convenience. Everything that a package tourist is looking for exists in Costa Rica and really nowhere else in Central America. For the backpacker, this translates to high prices, unnecessary conveniences, relatively poor public transportation, and quite a shock coming in from Nicaragua. The sterility of the hotel rooms may be correlated with the sterility of Costa Rican life. Apart from the tropical forests, there is really very little of note about the very homogeneous culture. Costa Ricans are friendly, quick to smile and start up a conversation, but by the end of my stay there, I started wondering about their sincerity. Other travellers had warned me that locals are much more interested in sizing you up to making some colones off of you, rather than actually curious about you, and I found myself in agreement with this evaluation. Money plays a peculiar role in the culture, and there seems to be little trust between people there when money comes into play, whether it's between client and vendor, between offices of the same company, or even between members of a family. Everything is personal, which can make administrative bureaucracy rather daunting unless one understands the system and the individuals involved. There are no street numbers or names. A typical address might read "75m south of the San Francisco church." Costa Ricans are particularly community and family-minded, with relatively little concern about domains outside of their immediate surroundings. It is not a simple culture to understand fully, certainly more complex than their friendly Tico (nickname for Costa Ricans) image.

The two other Costa Rican natural parks that we visited, Monteverde and Corcovado, are among the most prestigious parks in Central America. Costa Rica is well known for its extensive conservation policies, and deservedly so. About a quarter of the country's surface area is protected parkland, and this investment in greenery proved to be a prescient boon to the economy. No country in the world is as admired or studied in the business of ecotourism as Costa Rica. This, along with the impressive lack of wars in the 20th century, has propelled their standard of living far above the Central American average. Only Panama is at a comparable level, but Costa Rica doesn't have its own cash cow canal or a developed financial services sector as Panama does, so the wealth appears to be more evenly distributed.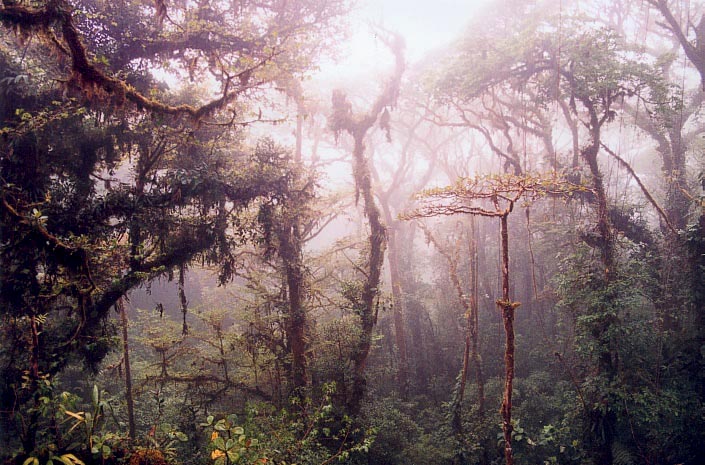 The Monteverde Cloud Forest sits high above sea level and indeed felt very cool compared to the sweltering lowlands. The cloud forest itself was very lovely, an ecosystem harboring vegetation and wildlife distinct from lowland jungles. The ropey vines dangling from scraggly tree branches and scrubby brush on the ground reminded me of intermediate-elevation forests on the climb up Mount Kilimanjaro. Bone-chilling clouds rolled through the exposed areas of the forest, leaving behind a photogenic haze. A zipline ride that we had taken the previous day (costing more than my entire expenses in Nicaragua) passed through a similar cloud forest, and sent us screaming through low-level clouds through the valleys at high speed. Monteverde is also known for harbouring a distinct class of cloud forest animals, but we saw virtually nothing. Even birds weren't easy to come by. We eventually did spot the "resplendent" and "elusive" quetzal, truly one of the rarest and most beautiful birds in the world, by tagging along behind groups led by park guides, and that was quite satisfying. But on the whole, it is not an exaggeration to say that we saw more wildlife by the parking lot outside of the park than during half a day of walking inside the park.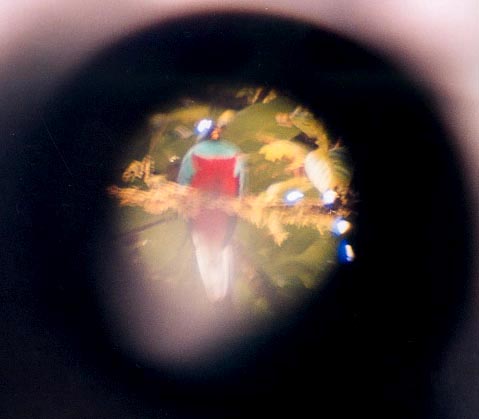 The Monteverde cloud forest (above) and a picture of the elusive quetzal (below) taken by placing my camera over the eyepiece of a birdwatching telescope and stabilizing it by hand.

Corcovado is a true lowland tropical park on the southern Pacific coast corner of Costa Rica. National Geographic anointed it "the most biologically intense place on Earth," so naturally we were hyped up about all the animals we'd see during three days of hiking through the sticky, bug-infested jungle. Just about all we saw, though, was a species of bipedal hominids with opposable thumbs commonly seen all over the world. Again, like Monteverde, the forest flora itself was lush and lovely, but we were terribly disappointed by the lack of fauna after our high expectations. I saw more wild animals in Guatemala than I did in Costa Rica, which leads me to believe that Costa Rica does a very fine job of marketing itself to attract foreign tourists. We covered 50 km of trail along beaches, through the jungle, and finally back out of the Corcovado jungle through a different path. In the heart of the park, we stayed at a primitive lodge that was way overpriced, perhaps to pump money out of foreign visitors despite pricing out local tourists, and found the staff there to be largely apathetic and unfriendly. The most unexpected and interesting part of the hike was on the last day, when the trail followed a river upstream to lead out of the park. We ended up having to ford this same shallow river 24 times before we reached the nearest town.

If Nicaragua was one of the most pleasant surprises I had in Central America, Costa Rica was clearly the biggest disappointment. I doubt that many of the tourists who visit Costa Rican parks and rave about them when they return home have made any serious effort to explore what some of the other Central American countries have to offer (and for far, far less money) in the way of sights and experiences, though admittedly they can't compete on the level of tourist infrastructure. Costa Rica has clearly reached the critical mass for a self-sustaining tourism industry, where word of mouth will be sufficient to keep new visitors coming. I do hope, however, that some of the poorer but no less deserving nations in the region will be able to attract their fair share of tourist money as well.

Panama

Before my trip I knew virtually nothing about Panama apart from the canal and their recent political history. Then by the time I was making my way down through Central America, I started to suspect that Panama might be a less-touristy version of Costa Rica with beaches and a similar European heritage. I was woefully wrong on all counts except the less-touristy part. Panama was a dynamic, vivacious, ethnically mixed cauldron bubbling with a colourful culture and its own peculiar traditions. In short, it was one of my favourite countries in the region, and if I was forced to live the rest of my life in one Central American country, it would probably be in Panama, for its high standard of living, its lowkey but honestly friendly people, and institutions that work. Before arriving, I had heard from experienced travellers that Panama beats Costa Rica in every way, and though I was skeptical upon hearing it, now I see why. There's nothing in Costa Rica that you can't find in Panama, whether it's beaches, jungle, good weather, wildlife, or nightlife. Well, I guess volcanoes would be one exception where Costa Rica clearly wins, but you get the point. If there is little discussion around the world about tourism in Panama, it is in great part due to the Panamian government which has done virtually nothing to promote tourism. This was even a sidelight campaign issue in the recent presidential election, where the incumbent president Moscoso lost her reelection bid.

Panama city is the Manhattan of central America, the financial bridge between North America and South America, with towering skyscrapers and modern commercial facilities. However, the financial district is just one of many neighbourhoods in the capital. The central hotel and government area is a bit seedy but alive and pulsing. A long pedestrian commercial street, leading from this neighbourhood out to the old town, is packed until sundown. The Casco Viejo or Casco Antiguo, the old colonial neighbourhood, is known more familiarly to locals as the San Felipe quarter. The rundown buildings are in generally poor condition, the residents are among the poorest in Panama city, and it is reputed as the most dangerous corner of the city, but it is an astonishingly beautiful colonial town. The old town encompasses the entirety of the original colonial city under Spanish rule. It reminded me of Havana's old town, in both the scale of its ambitions and crumbling colonial ruins. A well-funded urban redevelopment project to rehabilitate the neighbourhood would be an excellent investment and tourists would come over time.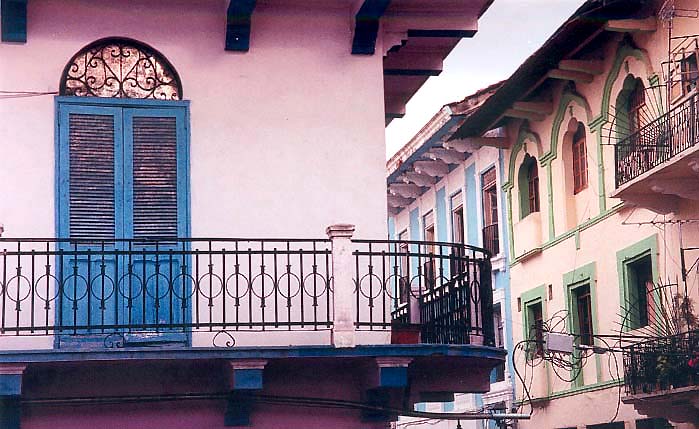 The sublime old San Felipe district of Panama City was the original Spanish colonial settlement, but in most parts not nearly as well preserved as these buildings.

We chose to our week in Panama to coincide with Carnaval time, as Panama is reputed to hold the biggest and best shows in Central America. Panama city itself ran some floats with costumed actors on Mardi Gras night, but it wasn't the most heart-pounding spectacle you'll ever see. It felt more like an obligation on the part of the city to "do" Carnaval. The same apathy can in no way be attributed to the small traditional towns on the Azuero peninsula of Panama. They live, breathe and die Carnaval and other festivals with an intense personal passion that I'd wager surpasses Rio de Janeiro or New Orleans. All of the local families it seems actively participate in the realisation of their day and night shows, and joining in with them are hordes of Panamanians, and some other tourists (though they are limited by the hotel space available in the region), who swell the population of the town tenfold, or maybe more. The streets swarm with festive Carnavalers and on special occasions during the five day event, local women step out into town wearing polleras, a lovely traditional Azuero dress carefully made by hand. The expense and complexity of these dresses reminded me of traditional kimonos worn on New Year's day in Japan. Carnaval in the Azuero town of Las Tablas, the most renowned of the Panamian Carnavals, is another dimension altogether and deserves its own page to itself.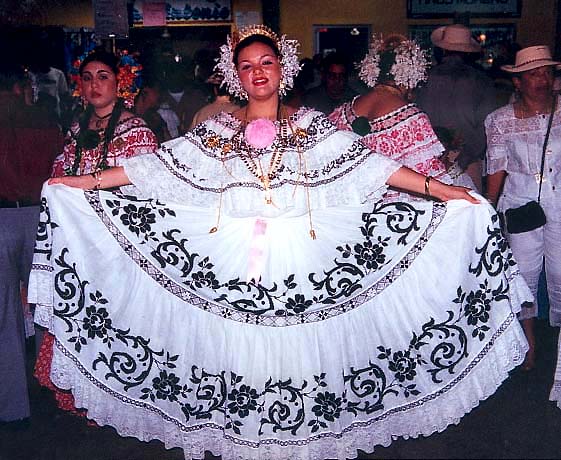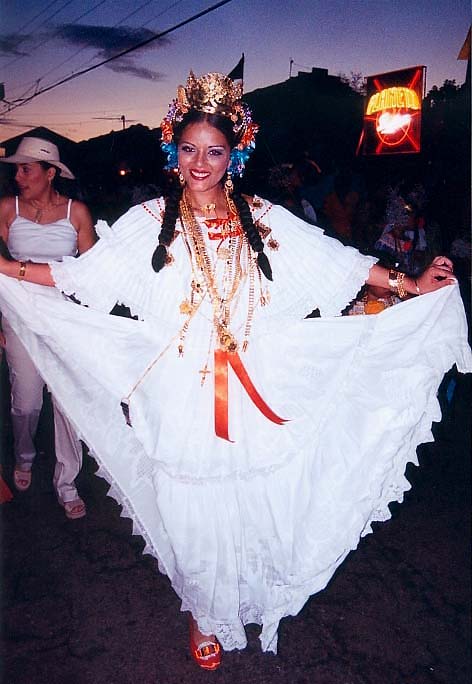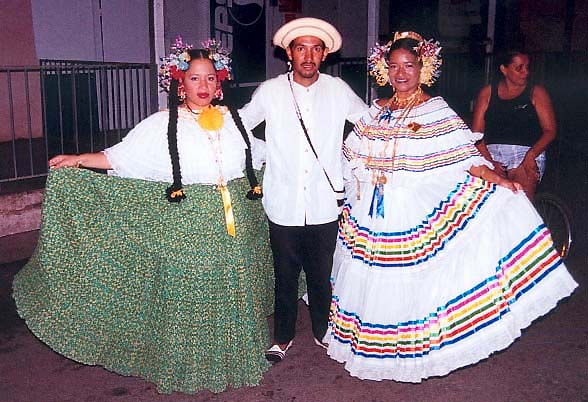 At Carnaval time, Panamians come out in traditional handmade costumes, including the Spanish-inspired pollera dresses. Pictured here are residents of Villa de Los Santos, Azuero peninsula, Panama.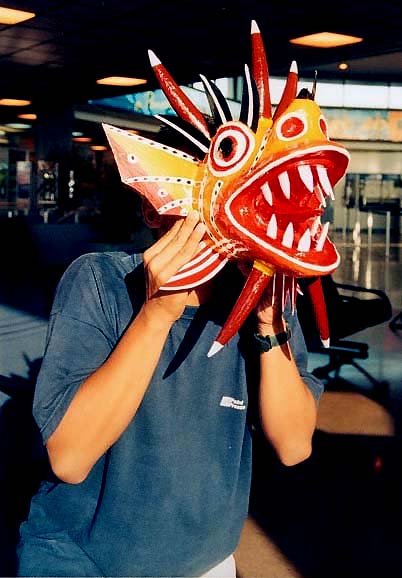 Festival mask making is another tradition still alive and well in Panama, as I demonstrate here in Panama's Tocumen airport. We visited the home of the notable mask maker Dario Lopez, in Parita, Panama on the Azuero peninsula, and I walked out with a few of his handicrafts, including this Corpus Christi festival mask made of papier-mache.