Antigua & Excursions in Guatemala - Jan 2004
Antigua
A 6 hour shuttle ride whisked me from Copan to the finest preserved of Spanish colonial cities, La Antigua, Guatemala, where I have been studying Spanish for the past month. Formerly the Spanish colonial capital of all Central America, the administration was moved to present-day Guatemala city after a devastating earthquake in 1793. As a result, the opulence of the former capital was placed into a time capsule that remains unchanged to this day. Cobblestone streets, colonial earthquake ruins, hacienda designs, and its magnificent site surrounded by mountains and active volcanoes render Antigua one of the most precious cities in the world, much less in the Americas.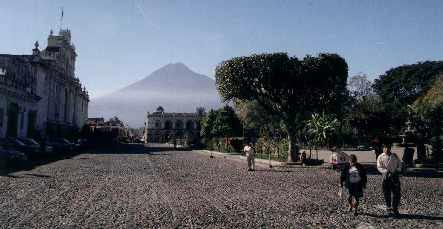 Parque central of La Antigua, Guatemala, with Volcan Agua in the backdrop
During my studies, I am lodged in a private room at the home of the delightful Zamora family, who are always present to chat (en español, por supuesto). Homestays, which include all meals, are the norm for language schools in Antigua, which have a worldwide reputation. In this way, I have been able to integrate into the subtleties of chapin (Guatemalan) life in ways travellers passing through can't. My first week saw a pyrotechnic spectacle that held Antigueños captive, tourists and locals alike: the brilliant eruption of Volcano Fuego, which I could see from the patio in front of my room. The insane power of the monster spewed jets of fiery lava into the air and oozed red glowing lava down its lips, just like in the movies.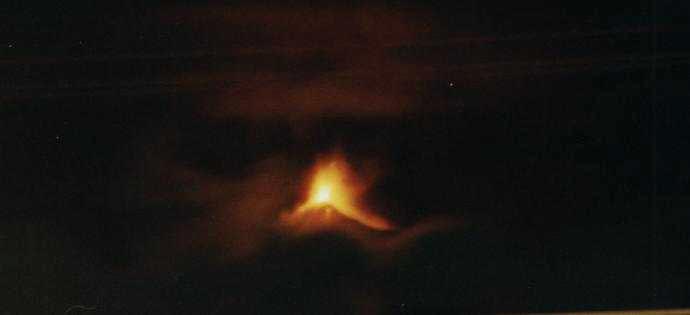 January 8, 2004 eruption of Volcan Fuego, La Antigua. Light pollution and a lack of a stronger zoom lens prevented me from capturing the whole sparkling fury of this beast.
Life is good here and I am learning Spanish quickly, making significant progress week to week. Because Antigua is so tourist heavy, the goods and services are the best in Guatemala, and I don't need to worry about day to day problems. Antigua provides a homey pause between my first month of backpacking and my last month of travels further down in Central America.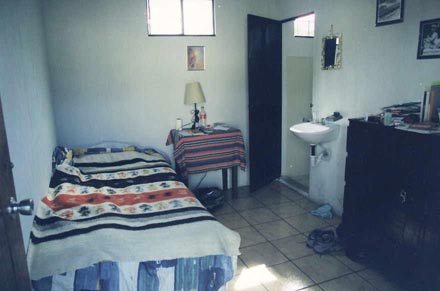 My cozy room in the Zamora house, with my own toilet and hot shower.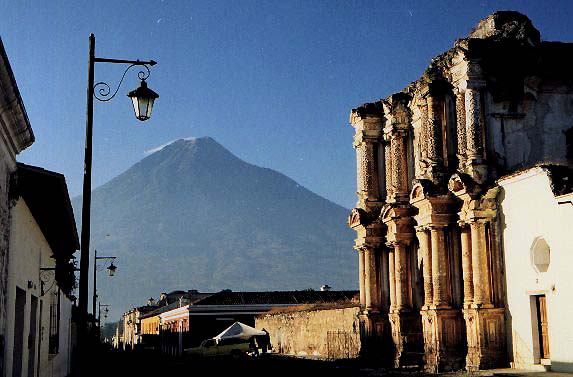 Antigua is literally strewn with ruins all over town. My favourite is perhaps the ruins of El Carmen, shown here with the Volcan Agua in the background.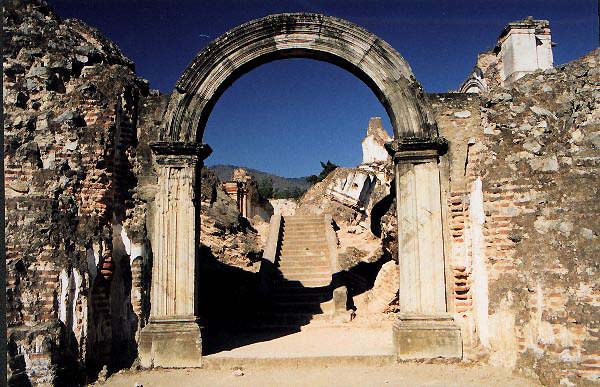 Another very impressive ruin is La Recoleccion, a gigantic church and monastery destroyed utterly and definitively in 1793 after many previous earthquake destructions. The magnitude of the ruined-ness is awesome.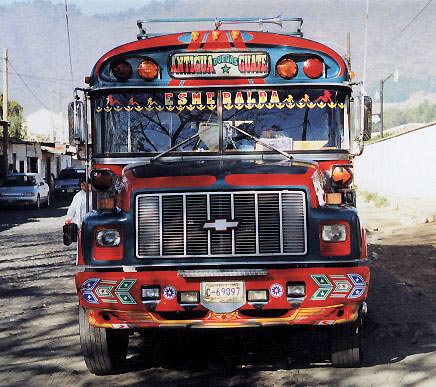 Everybody Guatemalan traveller's best friend: the colourful "chicken buses" ply the highways at breakneck speeds and with reckless abandon, picking up anybody anywhere along its route. Yes, these are indeed all reconverted U.S. school buses.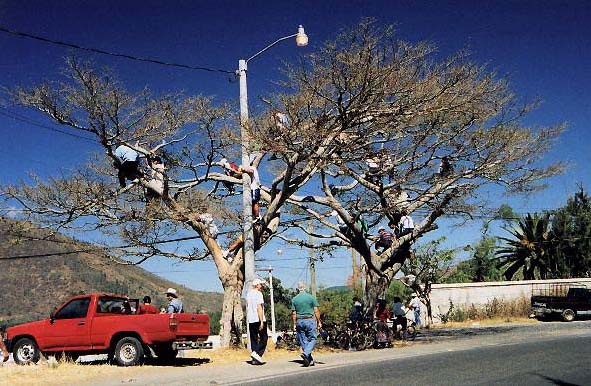 Have you ever seen a people tree? Spectators at the local futbol match avoid paying the USD$3 admission charge by looking over the stadium below in the canyon from their treetop perches. Antigua defeated Xela 4-0 in this season opener.
Volcan Payaca
Antigua also serves as a convenient base for daytrips and weekend trips to points within Guatemala, a relatively small country. A morning hike up Volcan Pacaya was my first volcano ascent ever. The footing on the dried lava rubble along the volcanic cone was just horrible, losing a half step for every step up, and toward the lips, the noxious fumes emanating from the crater (which is the same smell as sulfuric acid, trust me) tried but failed to distract me from the regal panoramic views, north to the highlands, west to the Pacific Ocean, east to Guatemala City and beyond, and south to El Salvador.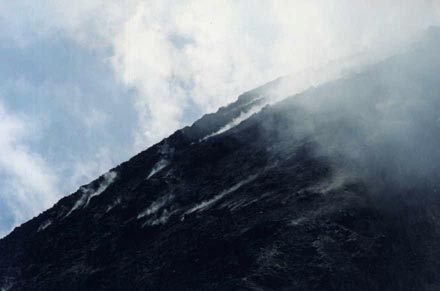 Closing in on the crater of Volcan Pacaya, Guatemala
Semuc Champey
My most recent weekend trip was to Semuc Champey, revered by Guatemalans as the most beautiful place in the country. It was not clear to me what it was exactly, and the guidebooks don't really provide any tangible descriptions. Even at the hostel next to Semuc Champey, other travellers returning from the site could only describe it as 'paradise on earth.' I soon realized why: it cannot be described. The photos I took do not even come close to capturing what it's like there. It simply must be seen and felt in person, much like Paris or Angkor or the Grand Canyon. Semuc Champey is a symphony of symbiosis between trees, rocks, water and mountain, and that's the best I can do. For any of you considering going there, you must go. The pictures and postcards do not do the place justice.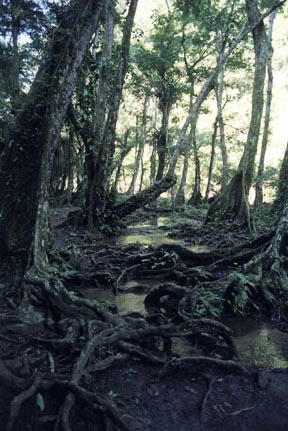 Semuc Champey, Guatemala
Lago de Atitlán
Tour guidebooks and Central American travellers have proclaimed the Lago de Atitlan the most beautiful place on Earth, so naturally a weekend visit was in order. Recessed into the ground due to its origins as a volcanic crater, a steep descent from the surrounding highlands drops you into the commercial town of Panajachel, dubbed Gringotenango for its tourist hordes. The vistas along the lake as seen from boats crisscrossing the lake to various lakeshore villages are splendid, lined with volcanoes and mountains around its perimeter. What I found most curious was that each village had its own very distinct character. Santiago de Atitlan is an indigenous town imbued with bright coloured textiles and ancient religious rites (worshipping the Mayan prophet Maximon). San Pedro La Laguna is more subdued, very inexpensive, and a favourite hangout of travellers seeking psychedelic pleasures. San Marcos La Laguna is a very peaceful, new age meditation-yoga hub for gringos. The locals live further up the hillside. The atmosphere was shockingly different from anywhere else I had been in Central America: calm, friendly and verdant.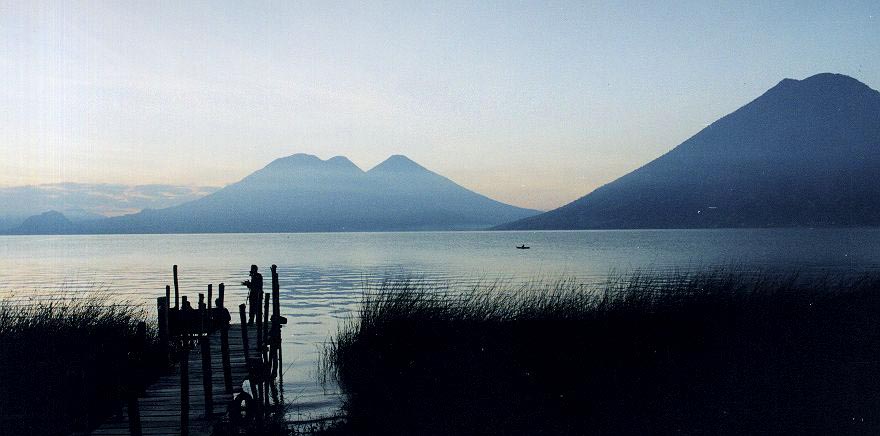 Sunrise from San Marcos la Laguna. The volcanoes of Atitlan and San Pedro (right) emerge behind the Lago de Atitlan.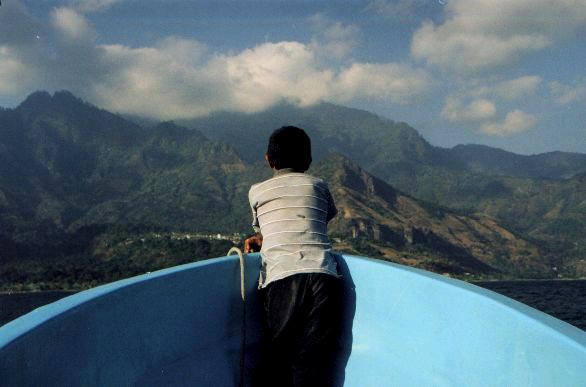 The conductor-in-training of a lancha departed from San Pedro La Laguna watches from the prow as we approach San Marcos.