Central and southern Mexico - December 2003
North of Distrito Federal, Mexico
After Thanksgiving in Los Angeles I flew on an overnight flight into Mexico City airport, changing in Guadalajara, and took a direct bus to Celaya, located in the fertile and properous Guanajuato province north of the DF. My first 5 days of the trip were spent with the friendly family of Adriana, friend of my cousin Eric. A perfect transition into Latin American life, and an effective start to my Spanish language immersion. Celaya is a comfortable town with three brilliant baroque colonial churches and a vigorous town life, though some members of the Rodriguez family longed for the big city action of nearby Queretaro or DF. Living in a family provided my first glimpse into the tightknit family life of Latin families, where family members of all generations stay nearby and see each other weekly if not daily. A grandmother and aunt of Adriana lived two houses away, and her oldest sister and brother in law lived across town but visited frequently by car.
We took a couple of days to visit two nearby colonial towns by bus. San Miguel de Allende, home to a large expatriate artist community (mostly norteamericanos), and a pretty relaxed place to hang out. Nestled deeper up in the mountains, the spectacular city of Guanajuato was built on the money of its silver mines, once providing a quarter of the world's supply, and on the generous backing of former Mexican dictators who pined for European elegance. The result is a dynamic provincial capital seat and university town teeming with life and the most gorgeous civic architecture in Mexico, as radiant as any old European town of its size. The divine street quesadillas filled with succulent chorizo and creamy cheese were the best I've ever tasted, and helped compensate for the brutally cold mountain night spent at the apartment of Adriana's cousin studying there.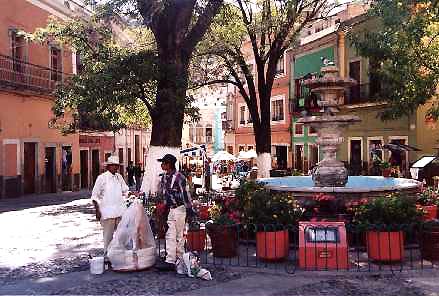 Plazuela San Fernando in Guanajuato, Mexico
I unfortunately ran out of time to visit Queretaro, supposedly another colonial masterpiece. Only later in my trip was I able to put into perspective the stunning beauty and modest affluence of these northern gems, quite unjustly neglected by international tourists. The rugged mountain scenery and prosperous living evokes images of North America or Europe, unlike the southern part of Mexico that is more distinctly Central American in its way of life, culture, and concerns.
Mexico City, DF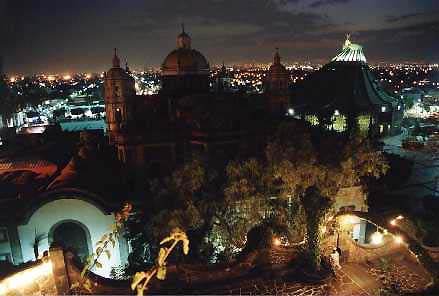 View over the old and new basilicas of Guadalupe, Mexico City, DF
My timetable to reach DF was fixed by the arrival of my friend Stan on a business trip from New York. The luxurious first class bus from Queretaro to Mexico City airport, with fully reclining lounge seats and onboard films, would turn out to be the best bus I would encounter on this trip. I arrived an hour late due to traffic delays, but as it turned out, it would be 24 hours too early. Stan's flight from JFK airport was snowed in and we spent much effort trying to communicate with each other by phone and email. It was my first occasion to witness the difficulty of extracting concrete information in Latin America, which those in the 1st world take for granted. Making a sound decision requires talking to several people and then interpolating the reality of the situation based on differing reports. I was fortunate to enter the DF metro with my backpack (normally prohibited) to take the $0.18 train ride into town instead of the much more costly airport taxis. The DF metro was one of the most efficient, and crowded, public transit systems I have ever seen. Stepping out into the Zocalo (central plaza) of DF to find my hostel, I confronted the highest concentration of people I had ever seen anywhere. And I've been in Paris, Greenwich Village, Picadilly Circus, Shinjuku at rush hour, and Chungking Mansion. I quickly realized where they managed to fit the largest urban population in the world: everywhere and anywhere! Walking one block could take a frustrating eternity at certain times. Still, you get used to it and it didn't dampen my enjoyment of what DF had to offer. The quaint colonial neighbourhoods of San Angel and Coyoacan, home of Diego Rivera, Frida Kahlo and Leon Trotsky among others contrasted with the cool monumental and modern elegance of the Paseo de la Reforma. Old baroque churches and a preponderance of 1930s Art Deco buildings mingled with parks and markets in central DF. You can eat well and cheaply, services are good, crime on the street didn't seem to deter many people from going out at night, and apart from the crowding and air and noise pollution, DF can be quite liveable. A daytrip to Teotihuacan, the grand Aztec ruins, didn't disappoint, though its majesty would later be eclipsed by Mayan ruins further south. It was great to see my Stan, as enthusiastic and original as always, in this setting. Alas, staying with him at the Sheraton Centro Historico with its inhouse potable hot water supply is now a distant memory.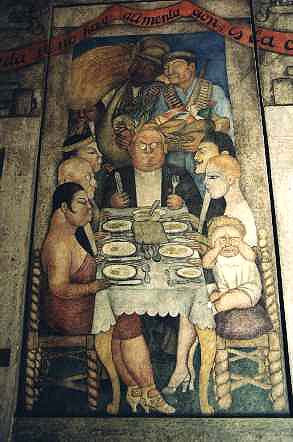 Capitalist Dinner, one of over 200 Diego Rivera murals inside the Mexican Ministry of Education building, Mexico City, DF
The South: Oaxaca, Chiapas and Tabasco
An overnight 8 hour bus ride whisked me into Oaxaca, another charming colonial city known for its clear air, laidback living, indigenous handicrafts and delicious cuisine. The relaxed atmosphere and low prices after the chaos of DF was a sudden contrast, and I understand why Oaxaca draws more than its share of tourists seeking to hang out for an extended period in Mexico. Oaxaca is the tourist frontier between the north, heavily dominated by North Americans, and the south, heavily dominated by Europeans, and for apparent reasons. Oaxaca combines clean, hasslefree living with a taste of indigeneous (Indian) life and culture. I found Oaxaca pleasant, and beautiful (a UNESCO world heritage city like Guanajuato, Mexico city old town, and Campeche in the Yucatan), but ultimately somewhat boring, but in a harmless way.
San Cristobal de las Casas, a hairy 12 hour bus ride deep into the mountainous heart of Chiapas, would be everything that Oaxaca was not. The Chiapan people and culture are identical to those in the Guatemalan highlands, and though its cultural capital San Cristobal is colonial in architecture, it is Mayan at heart. I found the Mayan culture to be more fiercely independent, more aloof, and consequently less friendly to tourists than the Ladino culture. Their cultural conservativism has led to ostracism from the rest of Mexico, poverty, and ultimately, violent confrontation. I arrived at roughly the ten year anniversary of the Zapatista occupation of San Cristobal, led by their elusive sub-commandante Marcos from neighbouring villages such as San Juan Chamula. The legendary multicolour Mayan textiles are found everywhere, and the local market, just a few blocks from the polished-for-tourists city center, felt as rough on the edges at night as the lives of the local peoples.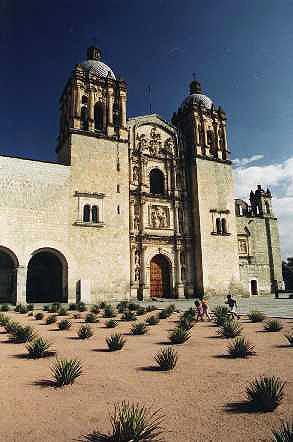 Templo Santo Domingo, San Cristobal de las Casas, Chiapas, Mexico
A morning daytrip to the village of San Juan Chamula would turn out to be one of the eye opening experiences I've had on my trip. The explosion of rainbow colours was almost blinding and the local garb (all Mayan designs are village-specific) could have been beamed down from an old Star Trek rerun. The women wore blouses, colourful skirts and bags on their heads. The men were space cowboys with fur vests, ranchero hats and carried big sticks. The black-clad priests could have been mystic enemy clerics of Indiana Jones. The locals are spectacularly unfriendly, and even the tourist office would barely grunt any word of reply to the most basic questions. Their aversion to being photographed is legendary and for this reason I cannot show up close images of Chamulans. Inside the church, a smoky voodoo atmosphere pervades the sinister air. Tourists can only approach the worship area, where locals embed their faces onto the hay-strewn floor, thousands of candles lit everywhere, the walls lined with glass cases containing their saints dressed in Chamulan garments. Though I didn't hear much of it, burping is supposedly a sign of respect in the distinct Chamulan religion and not coincidentally the Coca-Cola distributor is the richest man in the village.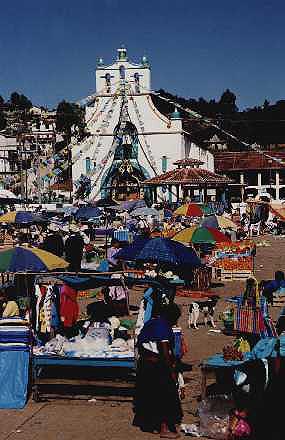 Market and church in San Juan Chamula, Chiapas, Mexico
The most scenic bus ride I've taken so far has been the 5 hour nerve-wracking descent from San Cristobal down to the ruins of Palenque, exactly on the edge of the Chiapan highlands and the jungle lowlands stretching to the Gulf of Mexico. These are without doubt the most romantic ruins in the Mayan world. Embedded in symbiosis with the jungle, the ruins cohabitate with nature, inextricably. In the clearing, immense pyramids and towers of central Palenque rise above the trees. Deeper in the jungle, trees and vines grow unrelentingly through the crumbling ruins of residential neighbourhoods, straddling achingly aesthetic waterfalls cascading down through the neighbourhoods.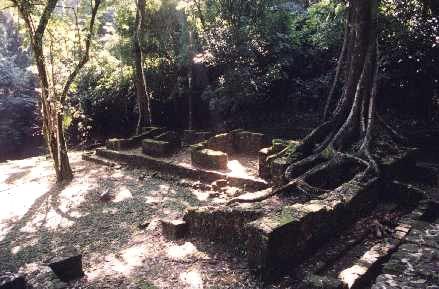 Grupo C, Palenque ruins, Chiapas, Mexico
In the province of Tabasco, the capital city of Villahermosa is only worth a stop for its Parque-Museo de la Venta, the finest collection of Olmec statues in the world combined with a zoo where I saw my first jaguar. The Olmec style is distinct from Mayan art, which generally eschew human representations, and from Aztec/Toltec styles further north. The collection is agreeably presented along a nature walk through the humid tropical milieu.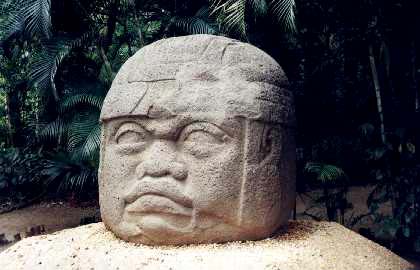 Olmec head at Museo La Venta, Villahermosa, Tabasco, Mexico