Zanzibar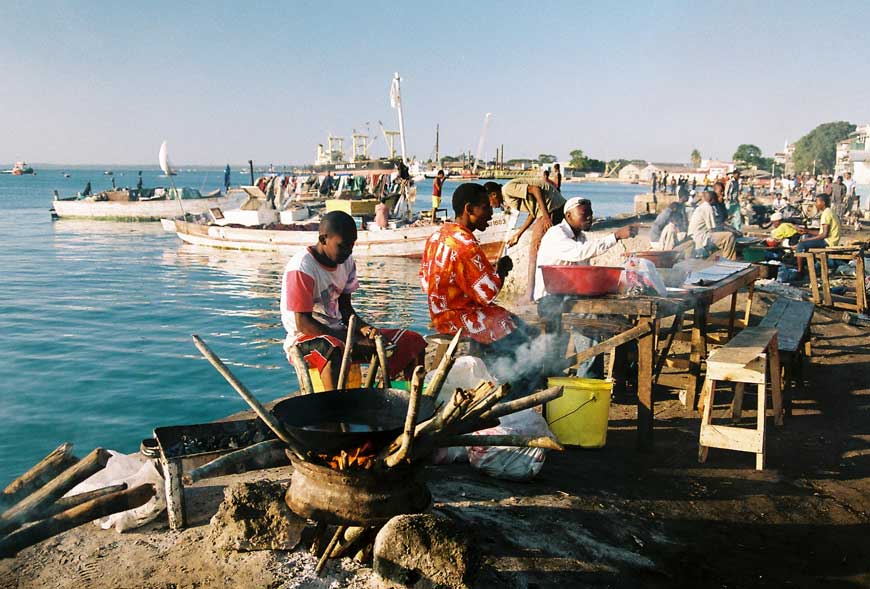 On my first visit to Tanzania in 2000, my first and only time in sub-Saharan Africa prior to this trip, I managed to summit Mt Kilimanjaro and check off all of the great beasts in the Serengeti and Ngorongoro Crater game parks, but omitted Zanzibar from my itinerary, the only other classic tourist destination in Tanzania. I figured it would just be another overrated beach resort island for sun starved Europeans. But as I've learned more since then from reading and from other travellers, I began to prioritize Zanzibar on my must-see list and as soon as I entered Tanzania this time I made a beeline for Zanzibar. Even so, I snickered when passing through "passport control" where Zanzibari authorities check and stamp visitors' passports as if it were a sovereign nation. They take their separate identity very seriously with great pride. Well, it turned out that they were right and so I'm giving Zanzibar its own separate page. Zanzibar is a unique and fascinating island nation which even the hordes of foreign tourists do not seem to be able to overwhelm.

The indelible timeless atmosphere and extreme arabian flavour is unique to Africa, but not the first time I had felt this. It was like being in southern Arabia itself, minus the spoils of oil wealth. To me, Zanzibaris behave like Omanis and Omanis like Zanzibaris. Their histories have been intertwined for centuries, their peoples have been shuttling back and forth between the Arabian mainland and the African island outpost, and only the behemoth of the British empire was able to eventually prise this jewel from the Sultan of Oman. Zanzibaris even look like Omanis, a mixture of light arab features with dark african complexion. There has been so much historical mixing that Omanis (and eastern Yemenites) are distinctly the darkest skinned people on the Arabian peninsula. And they share the same dignified posture, the same gracious and hospitality, infused with warmth but tempered with polite restraint. The Zanzibaris are the most piously muslim people in sub saharan Africa. Streets empty out into ubiquitous mosques at prayer time and prostrate worshippers are visible from virtually any side street or alley. Like in Oman, street life in the Zanzibar stone town ratchets up a notch as sunset nears. Shop stalls open, the fish night market opens up (see picture above), and friends set out on foot into the labyrinth of dark alleys that comprise the stone town. Still, Zanzibar is Africa, and the ambience is more carefree and judgments less stern than one would expect in Arabia. Wearing shorts doesn't draw a second glance. Women generally dress conservatively but are free to open up a bit as well. Alcohol, while not openly sold, is not controlled either and easily brought in from the mainland. The best of both the African live and let live insouciance and the Arabian dignity and pride in their culture are harmoniously blended in Zanzibar.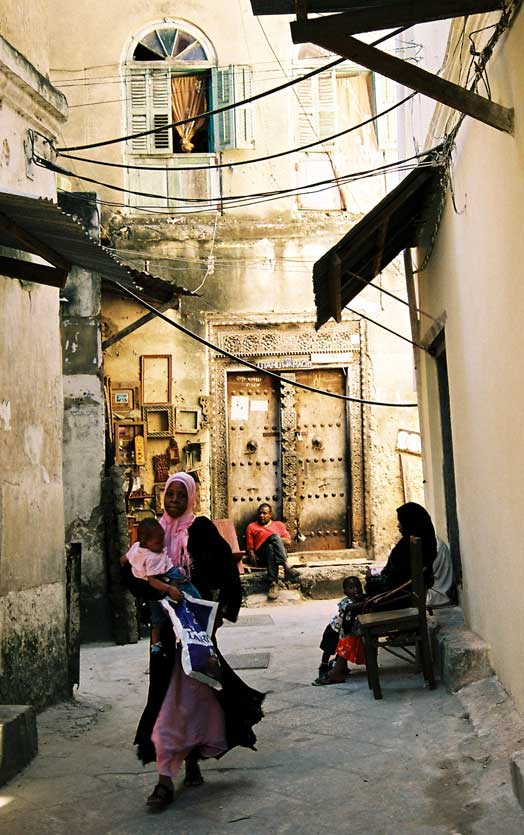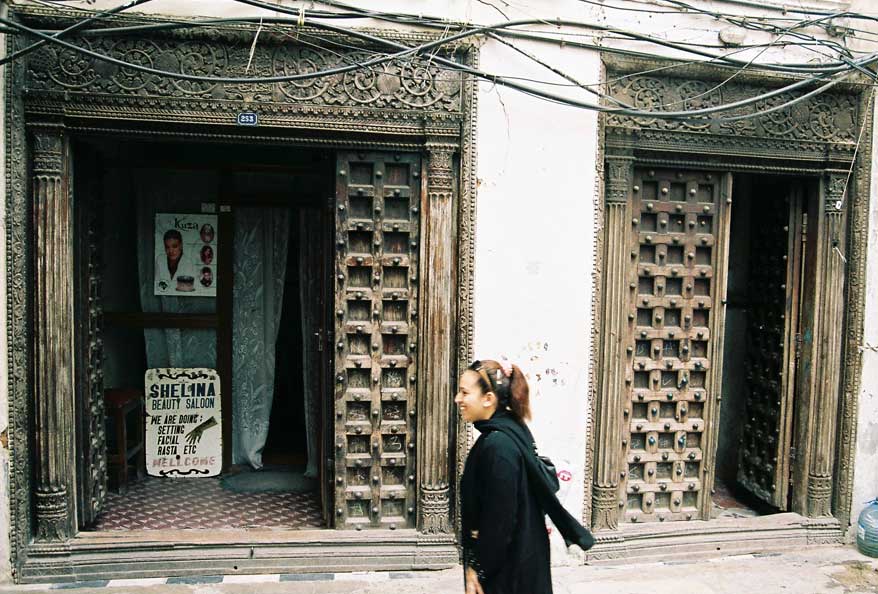 Probably a woman from the mainland considering the uncovered long hair and cool shades.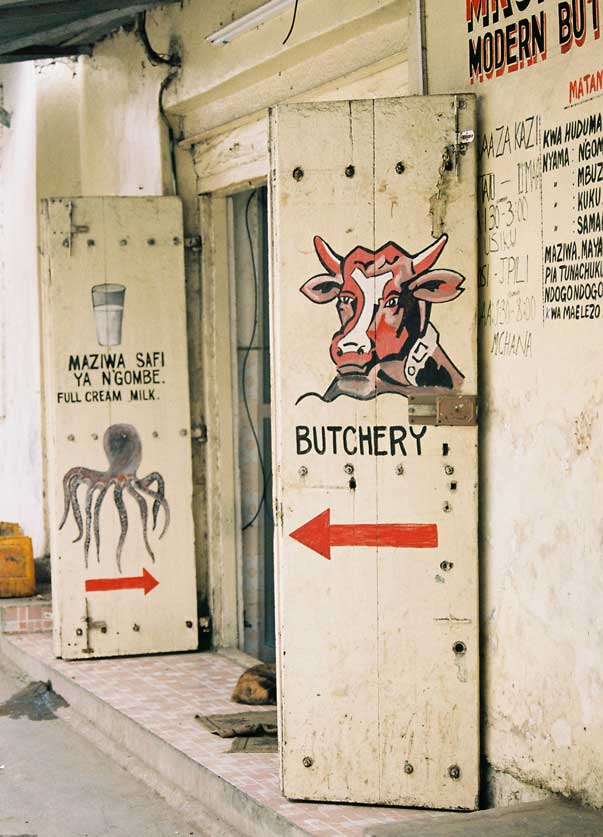 For some reason I really like this image. I walked past it all the time on my way to and from my hotel and finally I had to take a picture of it. I think it's the only place I've seen drawings of a cow head, an octopus and a glass of milk in the same field of view.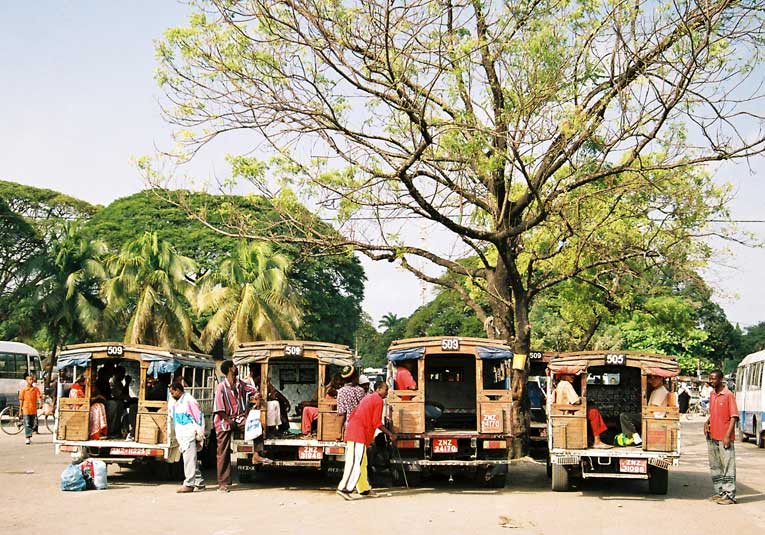 Transport linecars for getting around the island look a lot like the ones in Myanmar, another former British colony.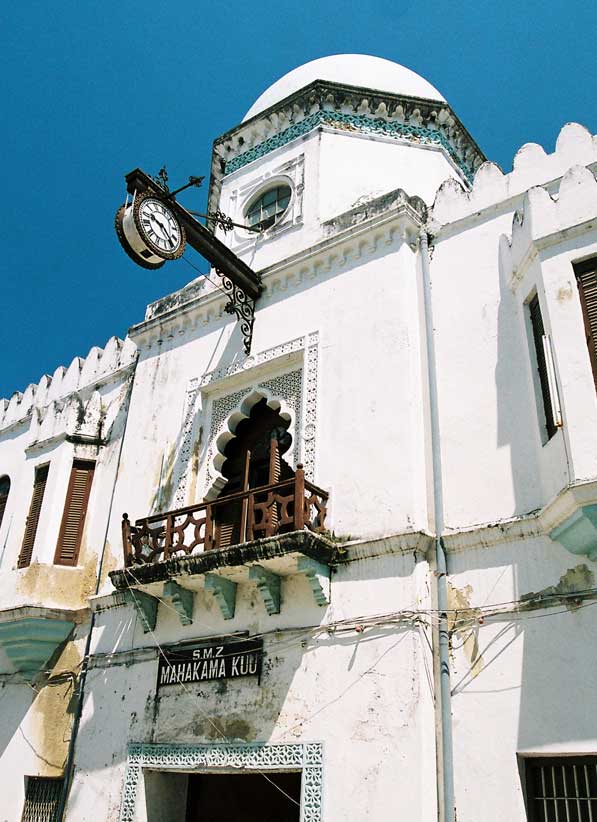 British colonial and arabian design motifs exist side by side and sometimes on the same buildings, such as on this government office in the stone town.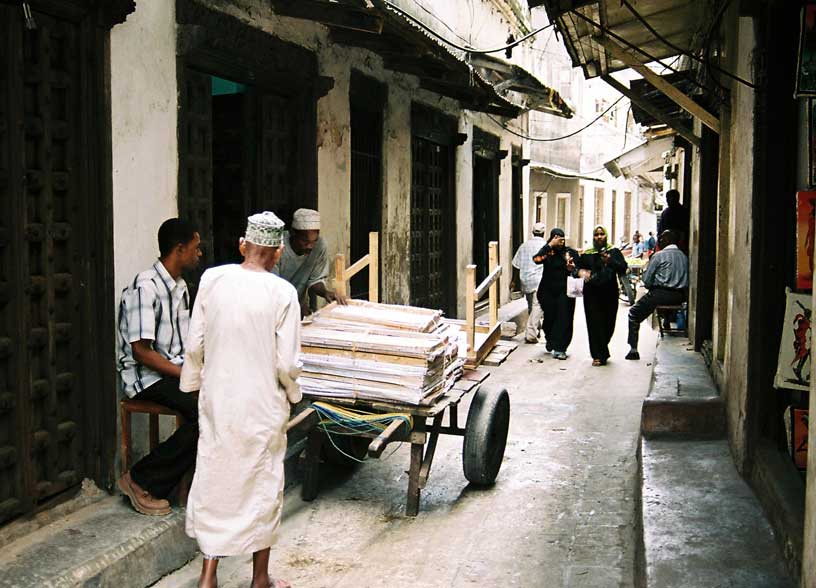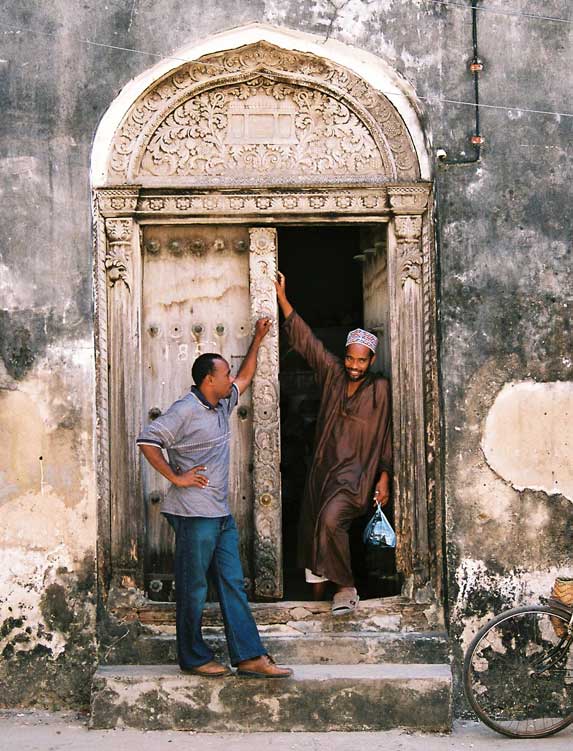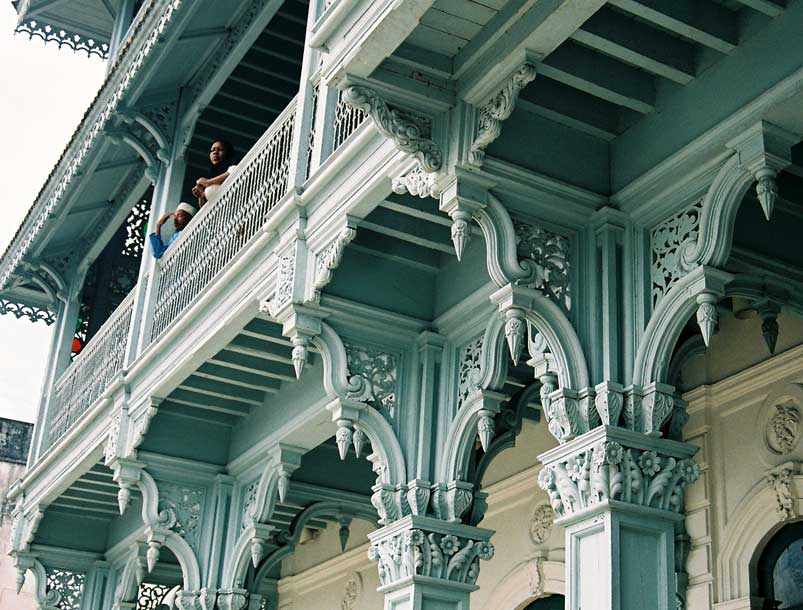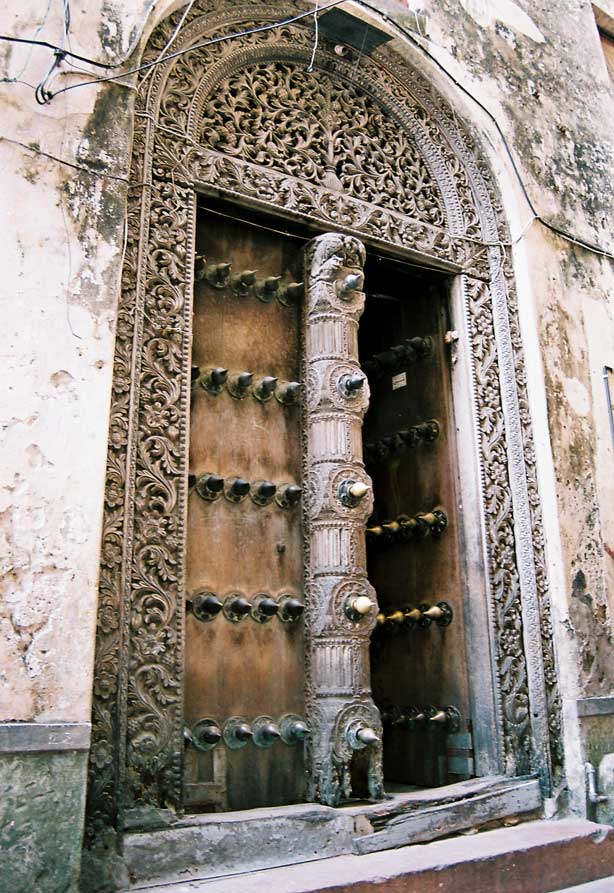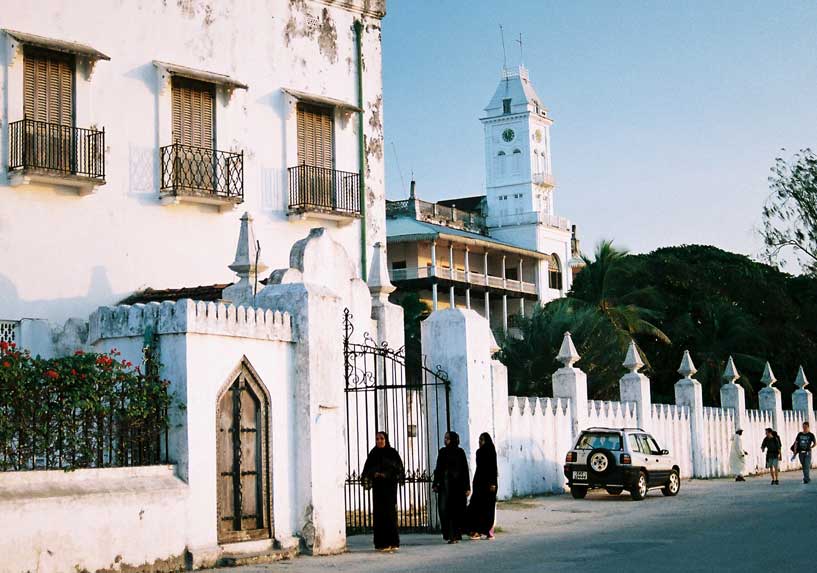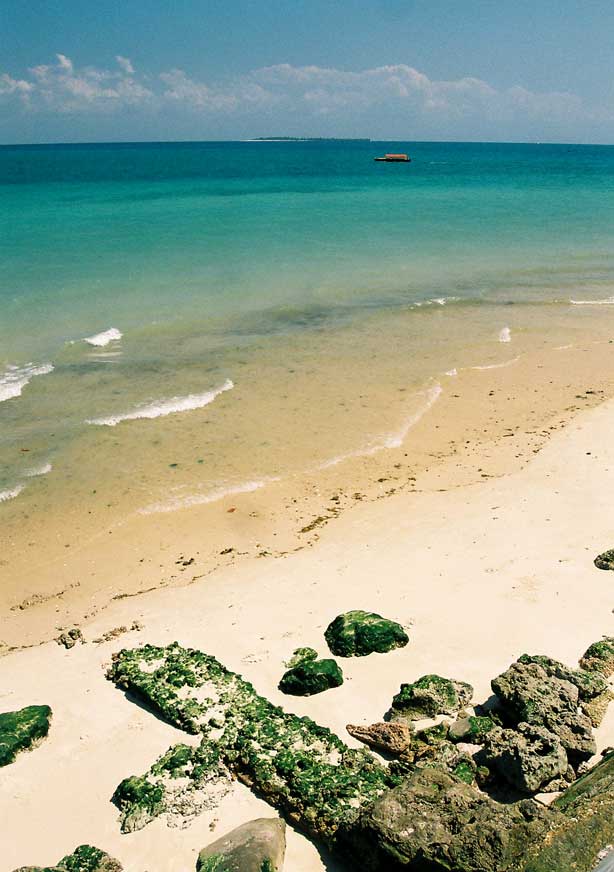 I didn't find the scenery on and around Zanzibar nearly as interesting as the local culture, but many visitors do come mainly for the beaches and warm Indian Ocean currents.