Uzbekistan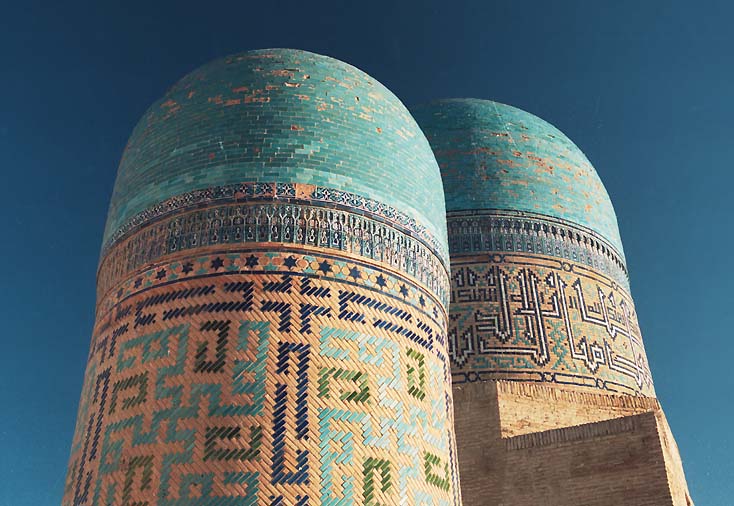 Phallic towers of the Shahr i Zindah shrine in Samarkand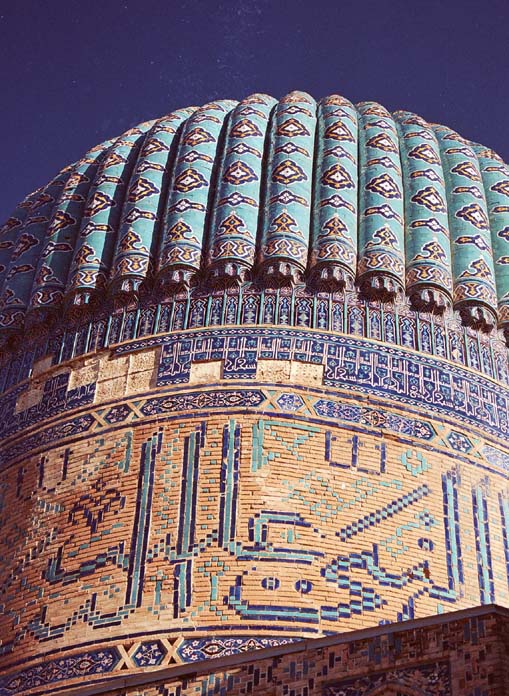 The Bibi Khanum mosque in the Samarkand old town is one of the four great Timurid monuments in Timur's power base. Though the rest of the modern city has been thoroughly sovietified, the electric colours and persian-style mosaics of these masterpieces were well restored and maintained by the Soviets and continue to be among the finest examples of their kind in the world. The word for the colour turquoise stemmed from this light blue, deriving from the Turkic peoples that lived here in Uzbekistan, and before that, the historic land of Transoxiana.

blablabla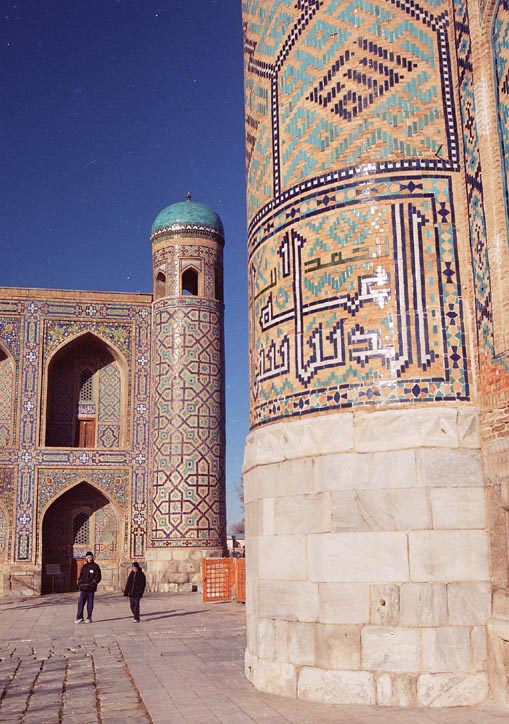 The Registan complex is the trademark emblem of Samarkand, Uzbekistan, Central Asia, and the entire Silk Road. Nothing, including the corrupt guards who let you climb one of the minarets for a small bribe, detracts from its magnificence or grandeur. Timur himself thought so highly of its beauty that he later had the eyes plucked out of the artists whom he had brought in from the distant reaches of his empire to build these sublime creations.

blabla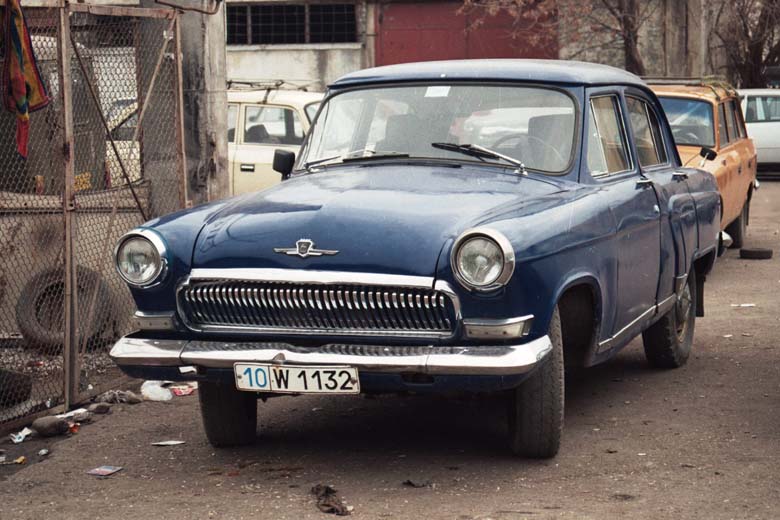 Tezykovka Market, Tashkent. "everything from nails to nukes"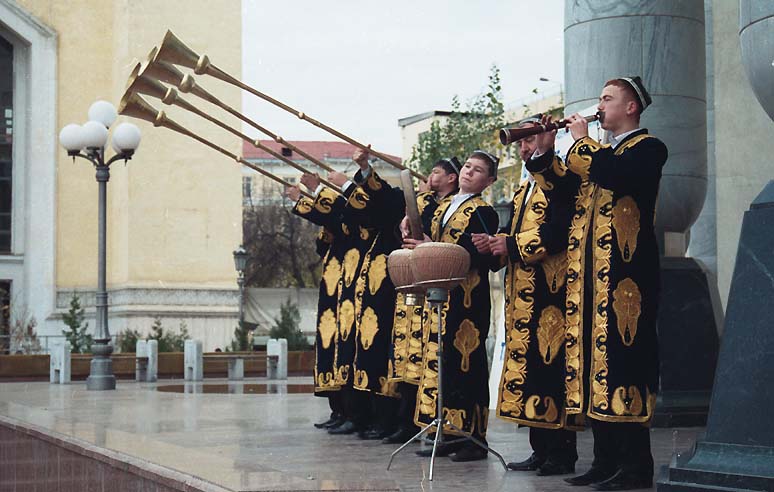 Traditional Uzbek trumpeters heralding a theatre performance in Tashkent


Caption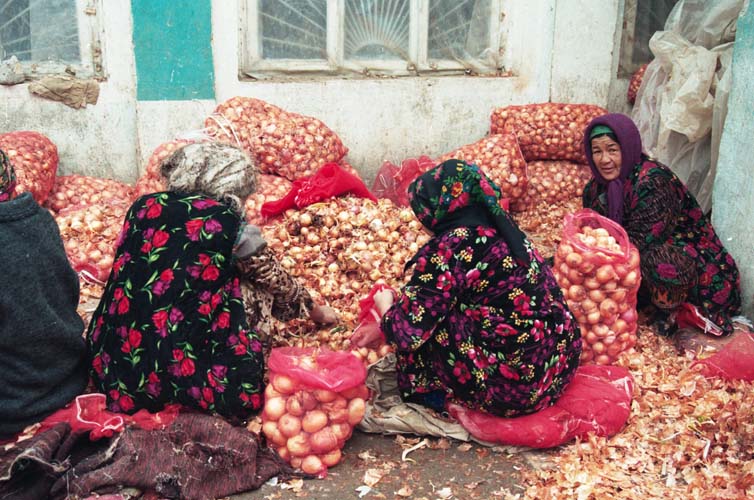 Onion sellers in the farmer's market of Shakhrisabz, the hometown of Timur (Tamerlane)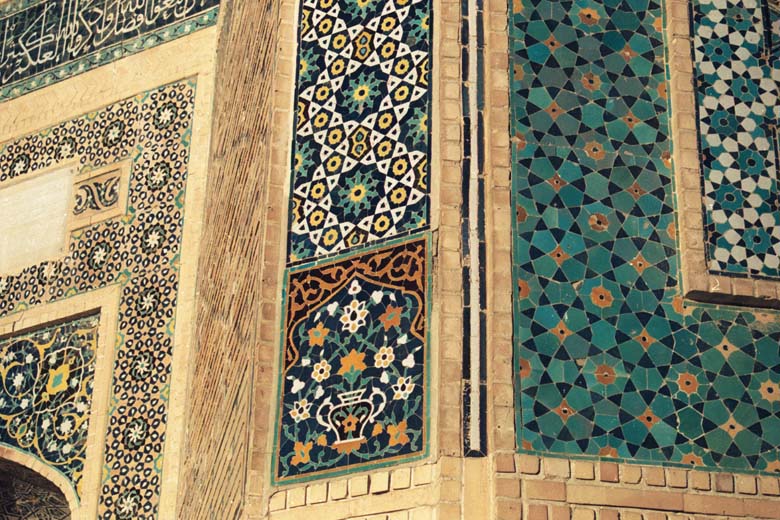 Mosaic design in the Persian tradition, in Bukhara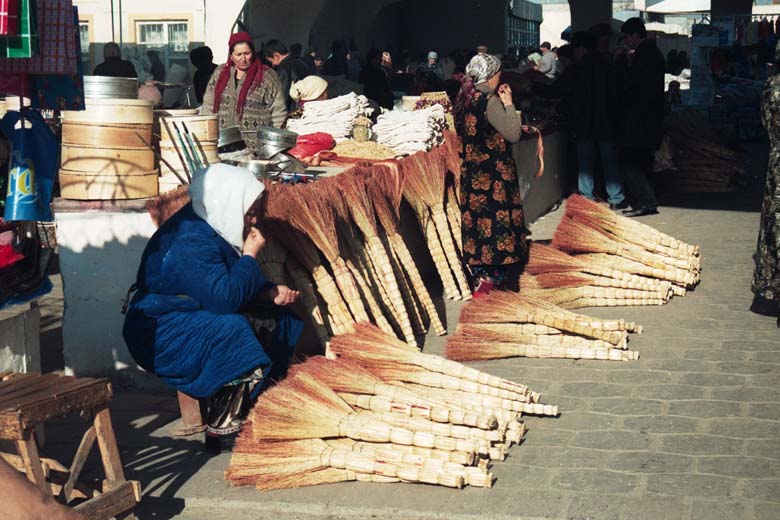 Broom merchants at the bolshoy Rynok (great market) of Bukhara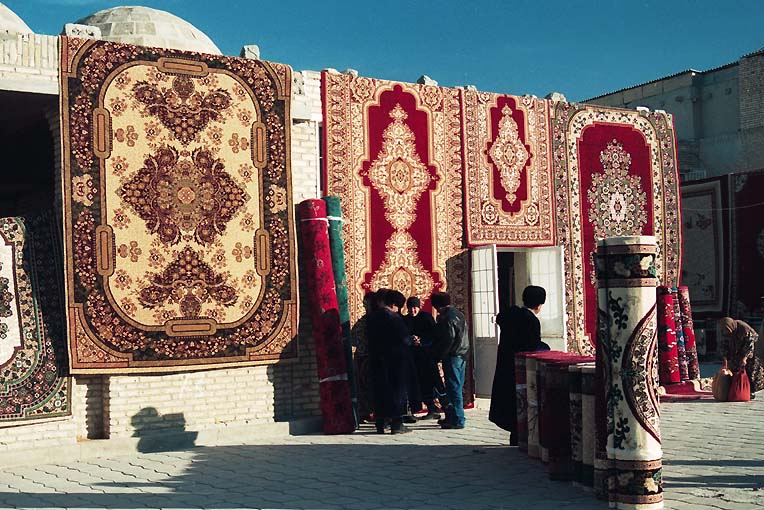 Carpet market in Bukhara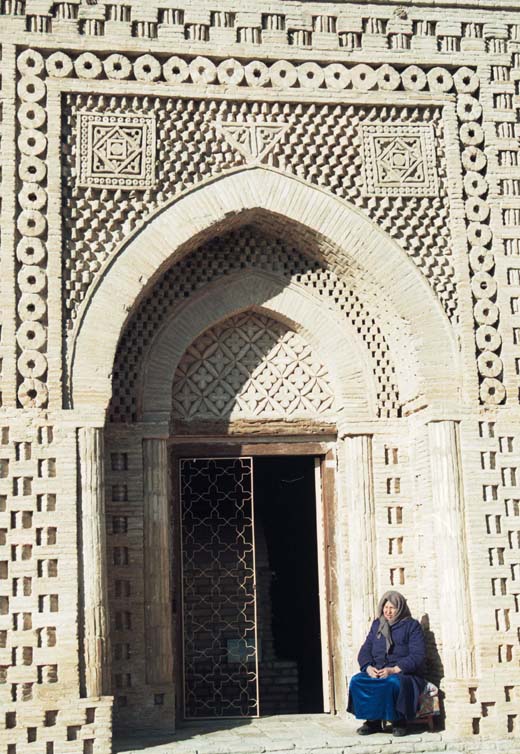 Ismail Samani shrine in Bukhara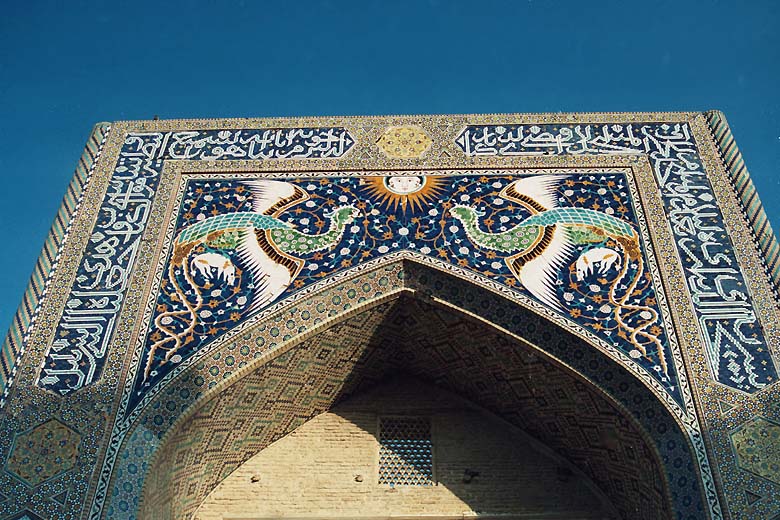 Madrassah in Bukhara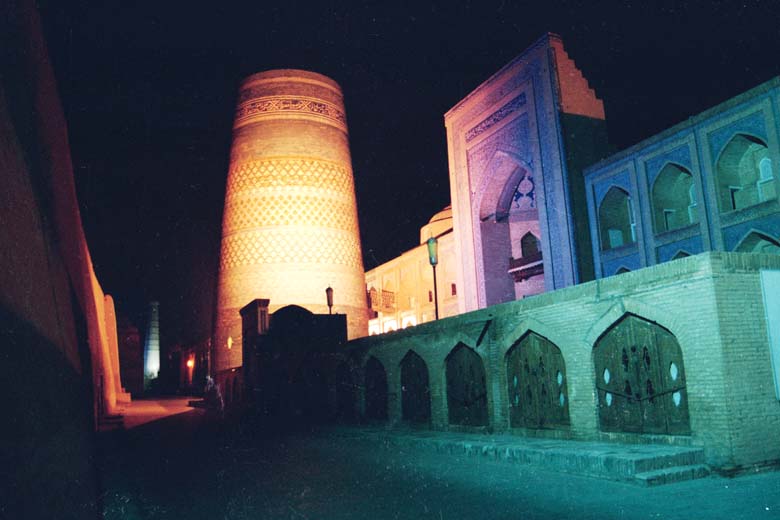 The old city (Ichon Qala) of Khiva by night.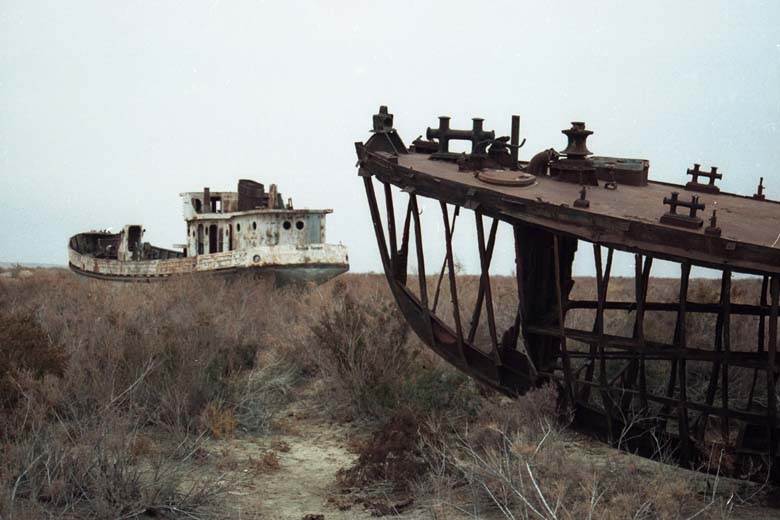 Rusting fishing boats abandoned at the former port town of Moynaq by the recession of the Aral Sea in the 1980s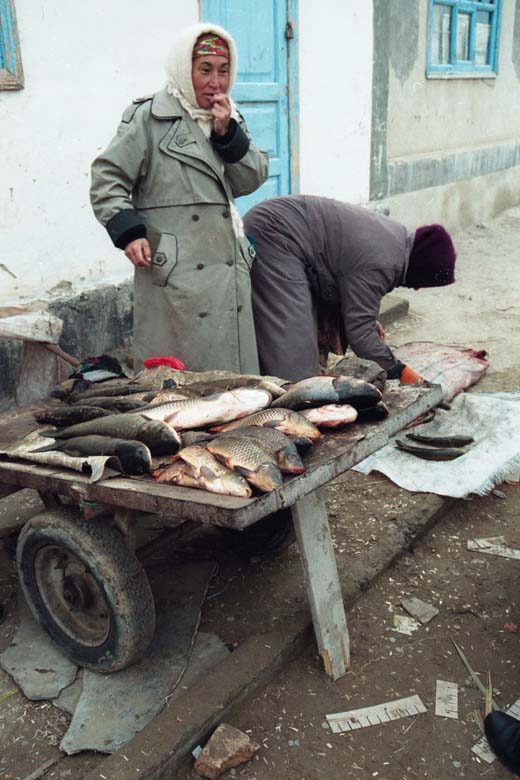 Fish merchants in the makeshift market of Moynaq. The fish comes from nearby lakes and not the salt-poisoned Aral Sea.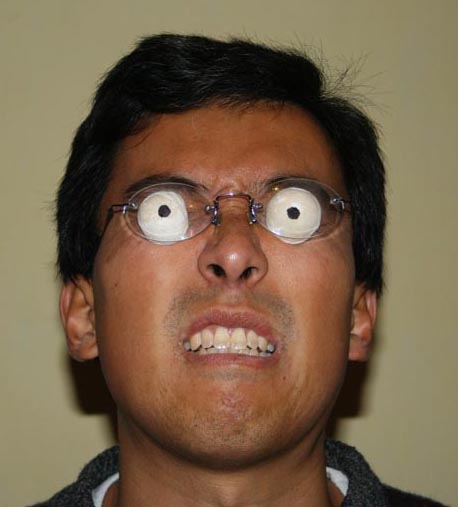 Two years on the road takes its toll on world travellers. This one has been transformed into a mutant whose eyeballs have been converted into the ultra-sour yoghurt balls called kurut that Uzbeks love to eat. Vendors carrying pails of these balls walk through public buses and business is horrifyingly brisk.

Caption

Caption